In Fall 2020, I was lucky to take Audra Hubbell's Visual Voice class whose personal and open-ended assignments are geared towards helping students discover their visual voices. We started the semester by creating visual moodboards, which I interpreted as a board for my some of my inspirations (32 of them) that share themes of storytelling, design ethos, building LGBTQ+ community, and humor. You can see mine at the end of this page.
What followed were three projects focused on the past (what influences you?), the present (what can you not stop thinking about?), and the future (what do you want to change?).
Welcome to QUEERY
Past: what influences you? / Boxed set of cards, booklets, and a poster / October 2020
QUEERY
is a podcast hosted by lesbian standup comic Cameron Esposito in which she has hour-long conversations with members of the LGBTQ+ community, many of whom are well-known figures. It empowered me to re-contextualize my past, become more confident, and find community. This card set is an evolved form of me trying to recommend the podcast QUEERY to strangers and friends. Anyone can open this box to get an overview of the podcast and some of my favorite episodes. This is meant to be a layered experience that mimics how I got into QUEERY by providing context into my personal life and the order of episodes I listened to.
Each episode card's front side contains the guest's name, pronouns, notable identities, and Queero (queer hero: a person, place or thing that made you more confident in who you are today) and the episode's number, air date, and highlights (in my opinion). Each back side contains a memorable quote, my own takeaways, and a QR code to listen to that episode on Spotify.
The title Welcome to QUEERY is a reference to Cameron Esposito's disclaimer in the opening of every episode. Please note that I designed these before QUEERY's visual rebrand in November 2020!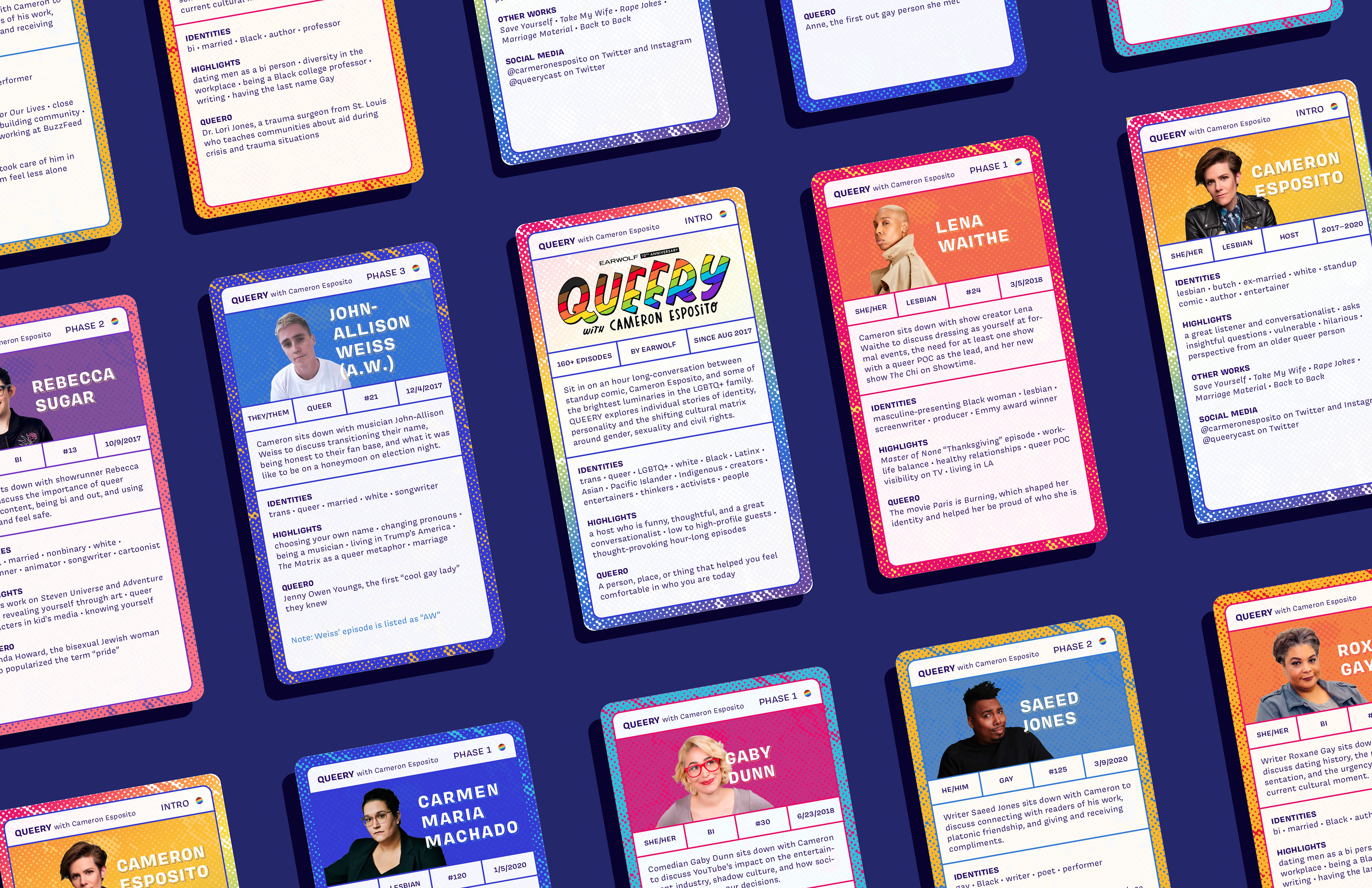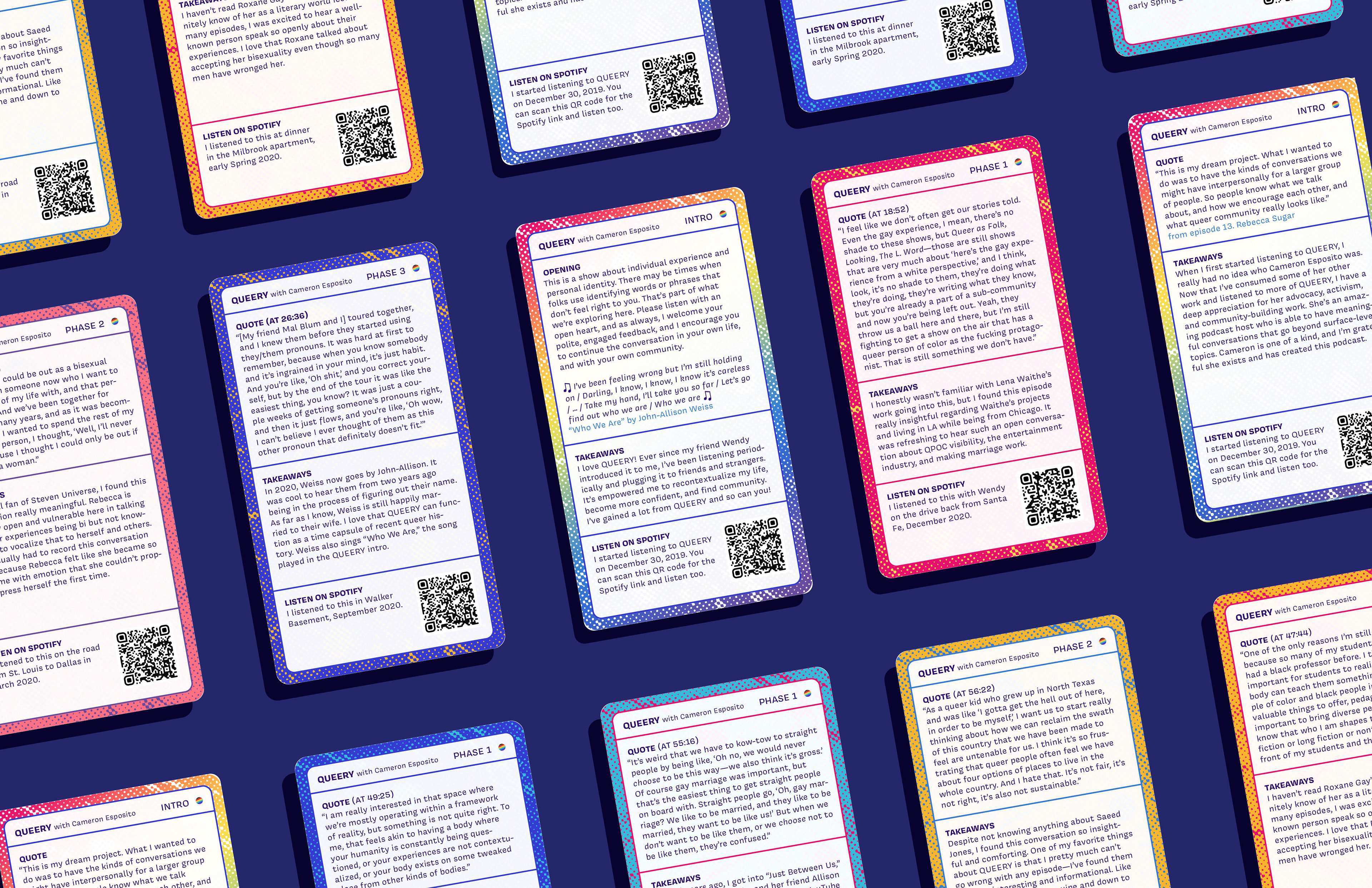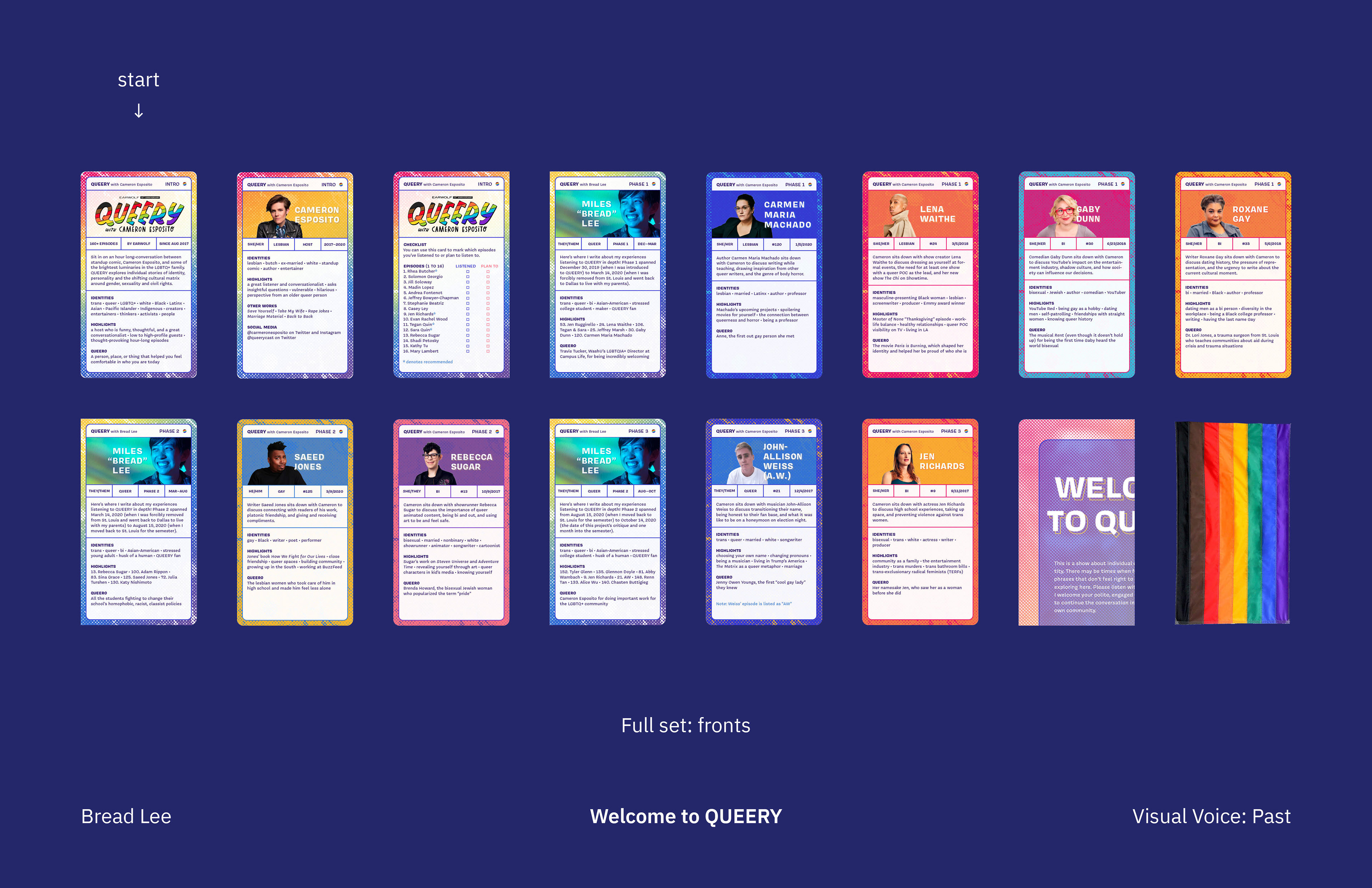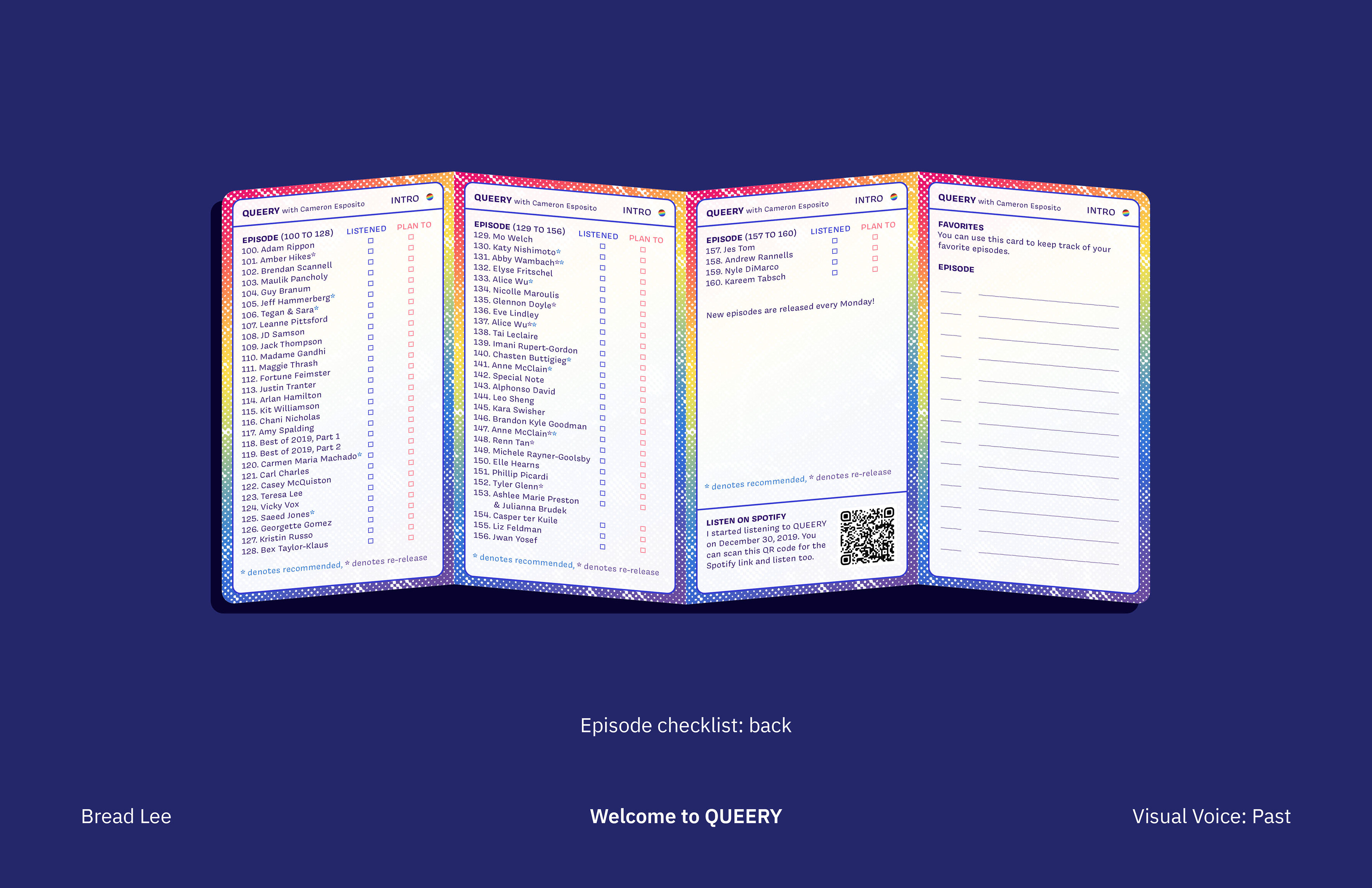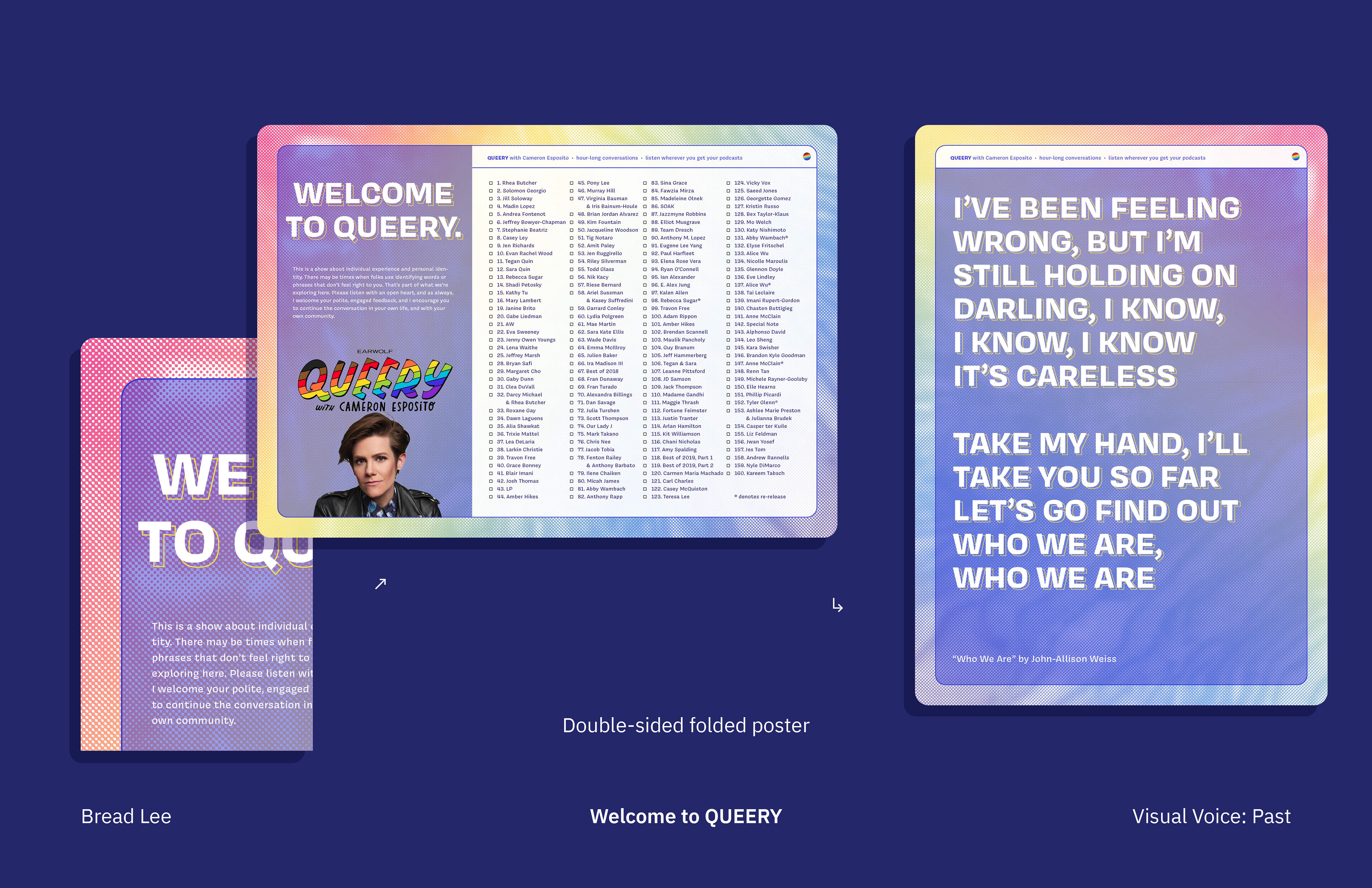 Am I a Lesbian?
Present: what can you not stop thinking about? / Exploring the beast that is compulsory heterosexuality / November 2020
While I'm not a lesbian, I often think about compulsory heterosexuality, a barrier a lot of lesbians face when questioning. I wanted to work with the two texts "
Am I a Lesbian? Masterdoc
" (a community-written Google Document), and Katie Heaney's "
Am I Gay or Straight? Maybe This Fun Quiz Will Tell me
" (a NYT article). I thought long and hard about user interaction, so I decided to make the 13x20 tabloid function as a folded pamphlet or booklet for a smaller, more intimate reading experience. Inside spreads open up to reveal large posters, one stating "Lesbian is not a dirty word" and the other with one checklist from the Masterdoc that a reader can mark up.
With this project, I struggled with paring down information and being an active curator. I originally had 3 texts without any imagery (I didn't want to lean on photographs of lesbians to implicitly say "this is what all lesbians looks like and if you don't look like this you're not a lesbian"). After receiving feedback that it felt too dense, I removed one text and bolstered Heaney's article with images.
These were printed by
newspaperclub
! If you'd like a copy,
email me
and we can try to work something out.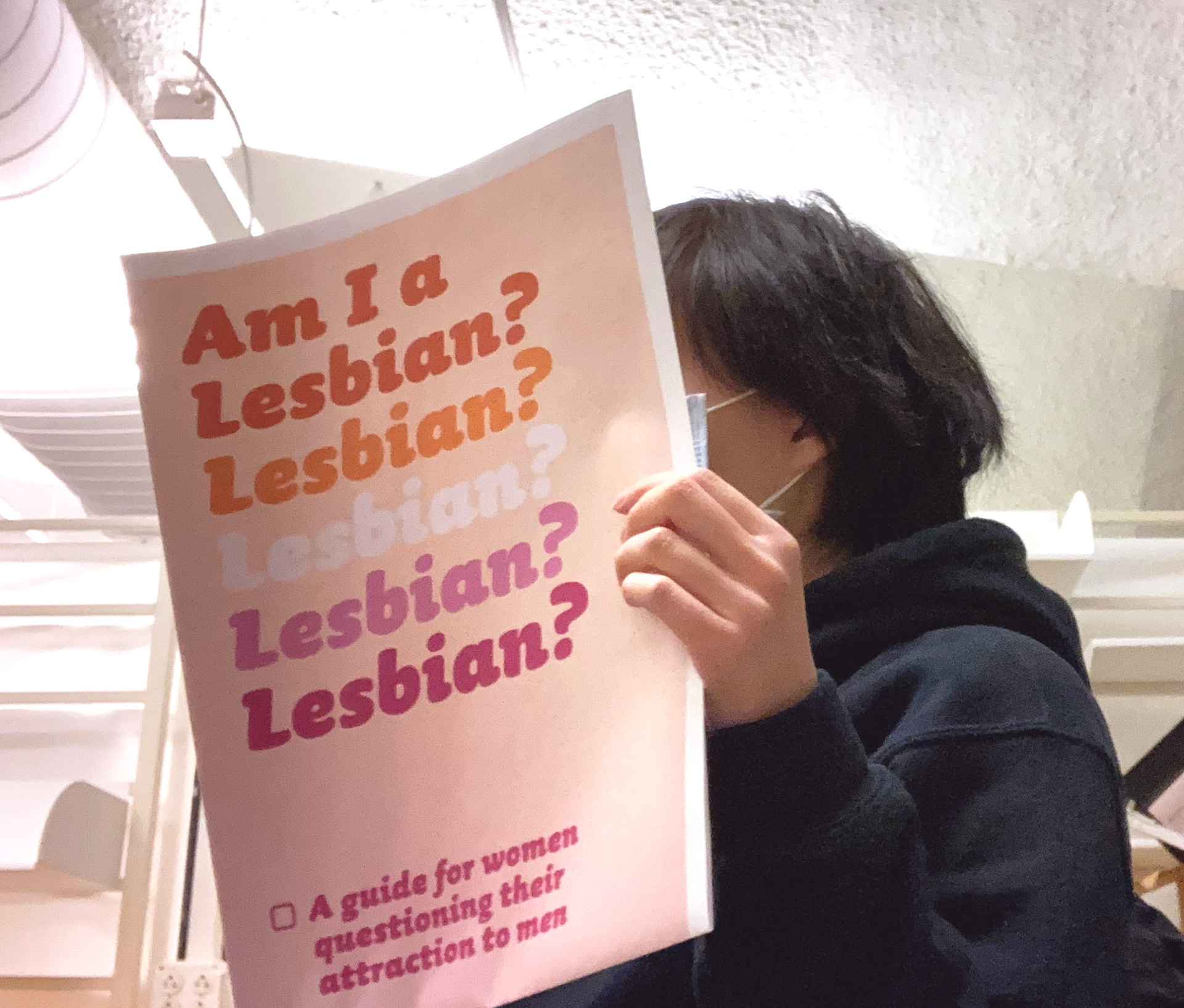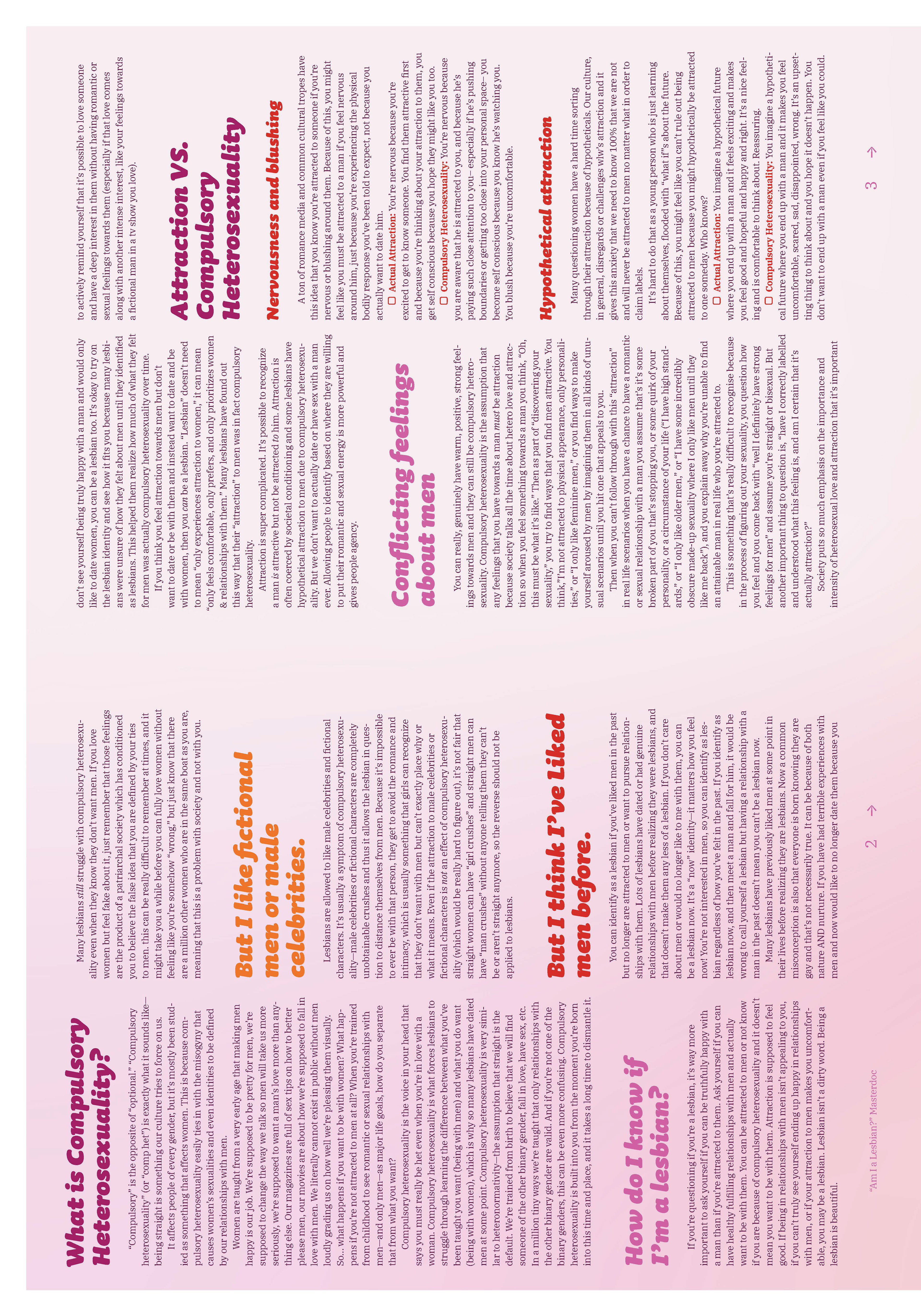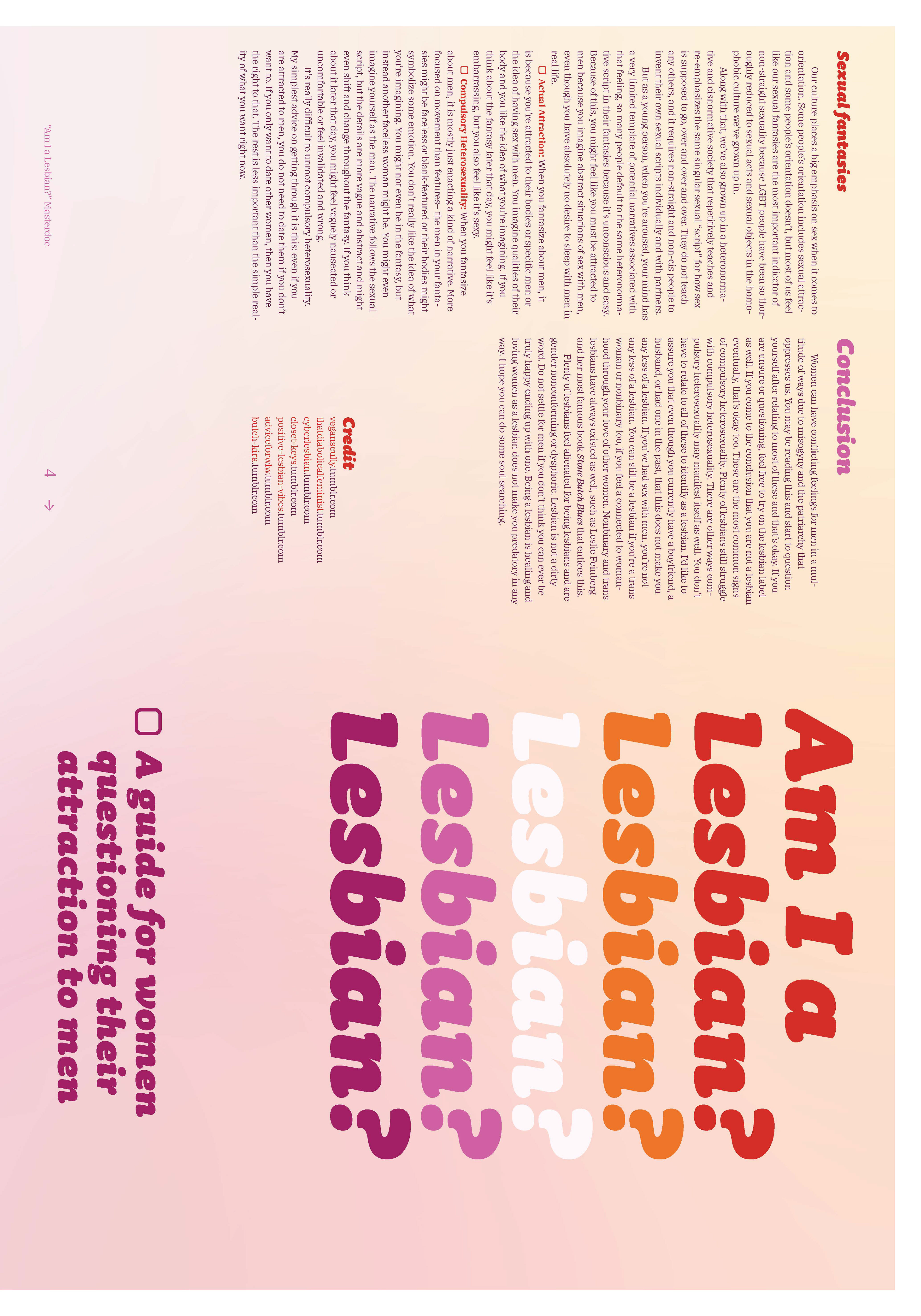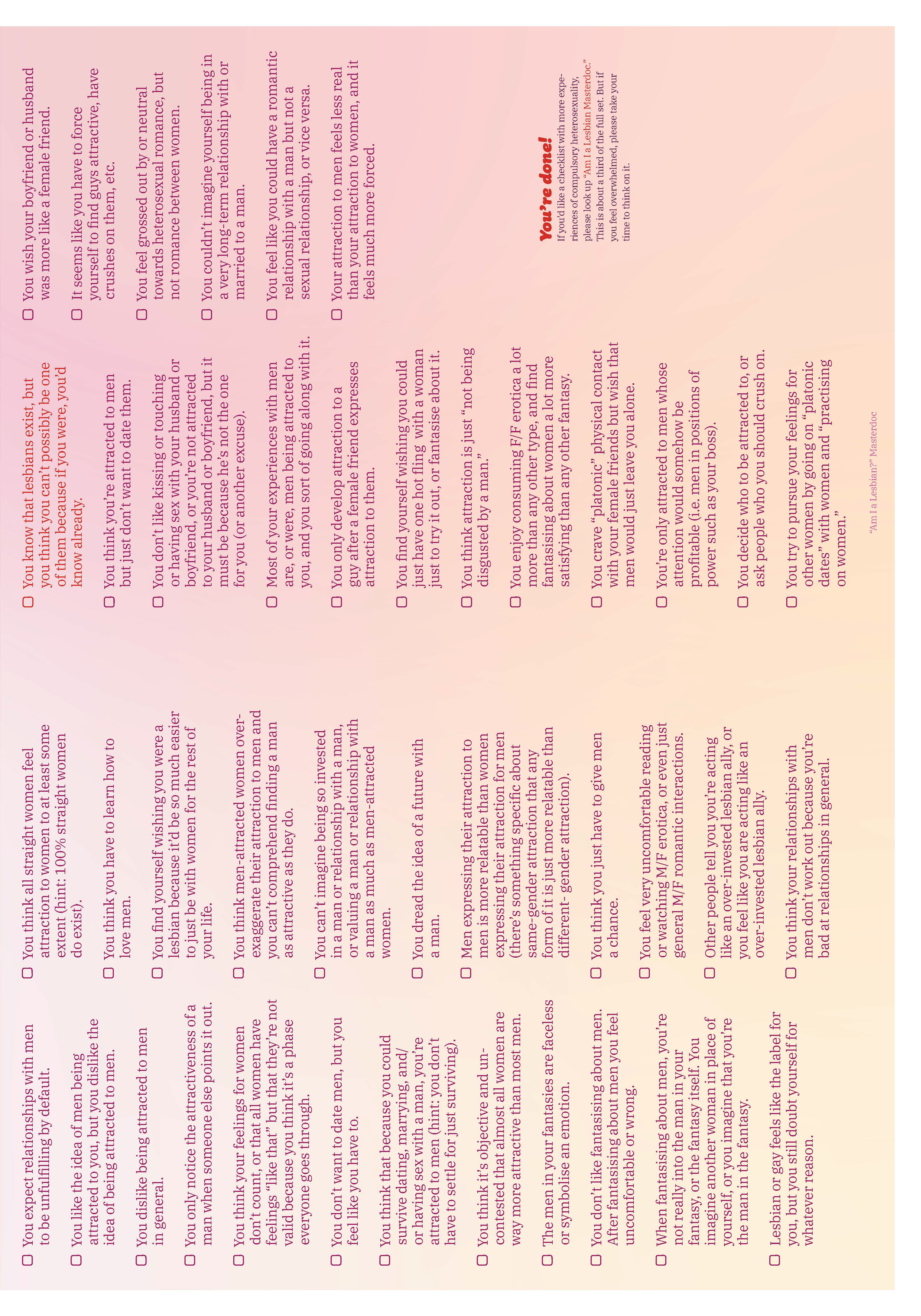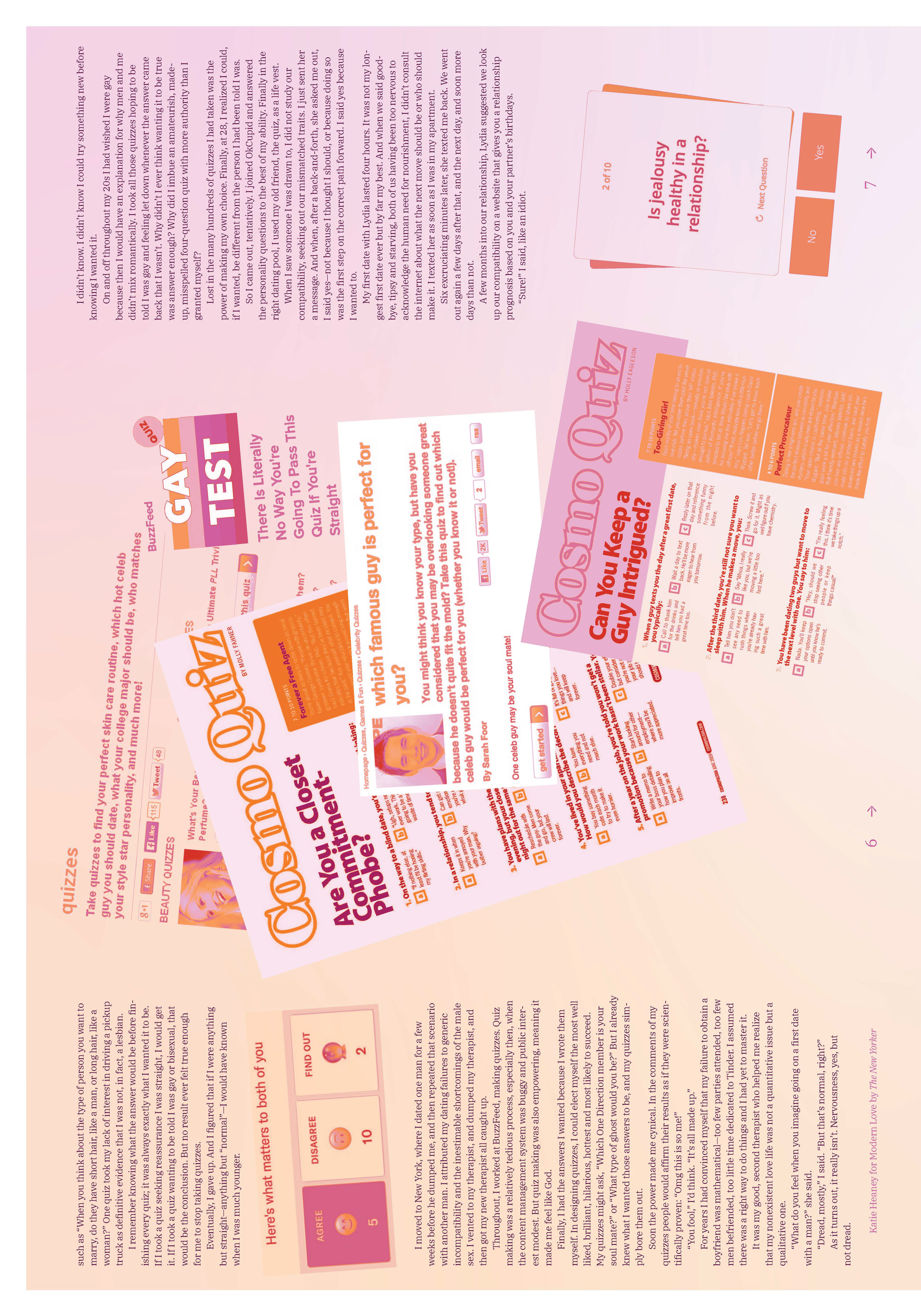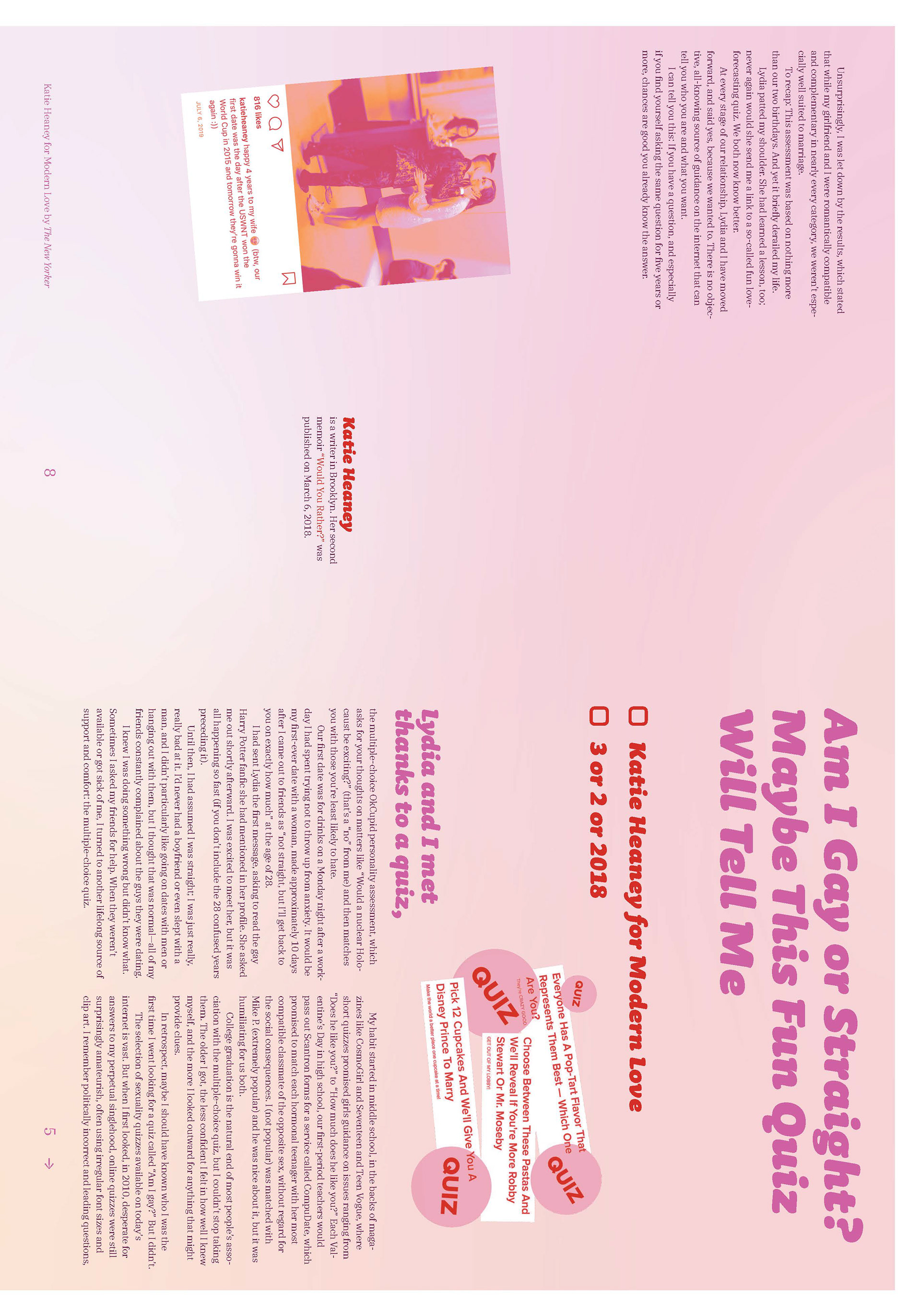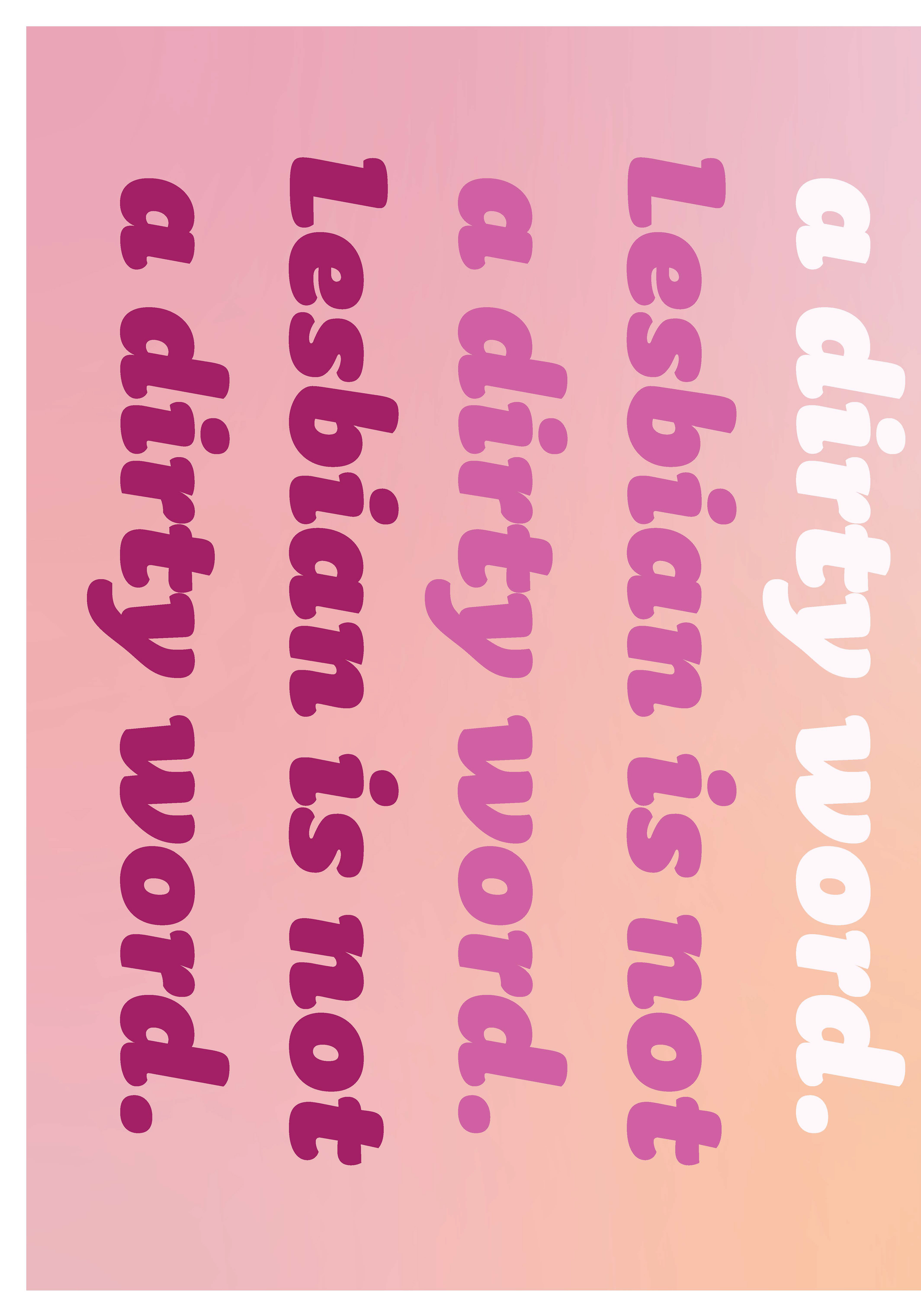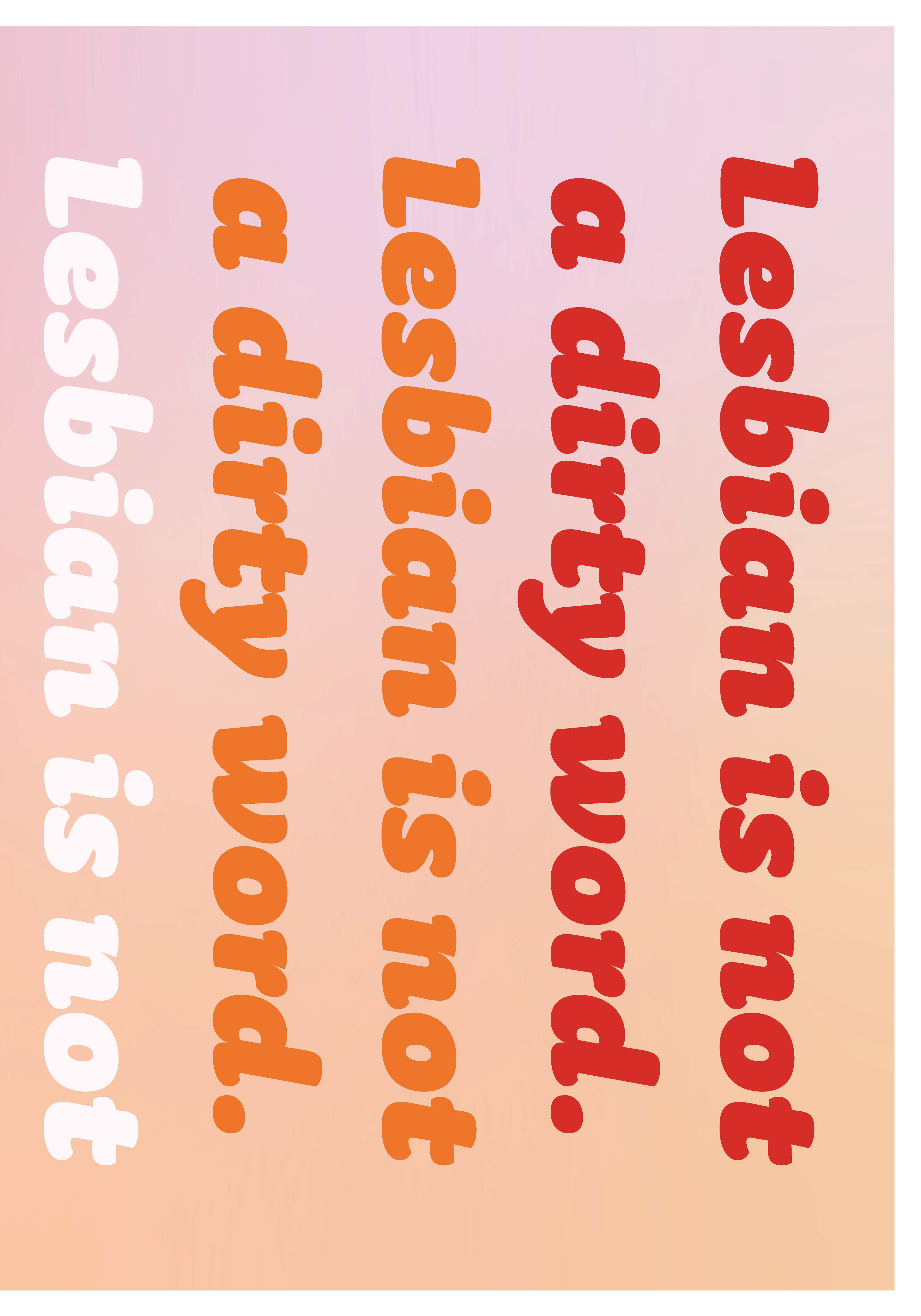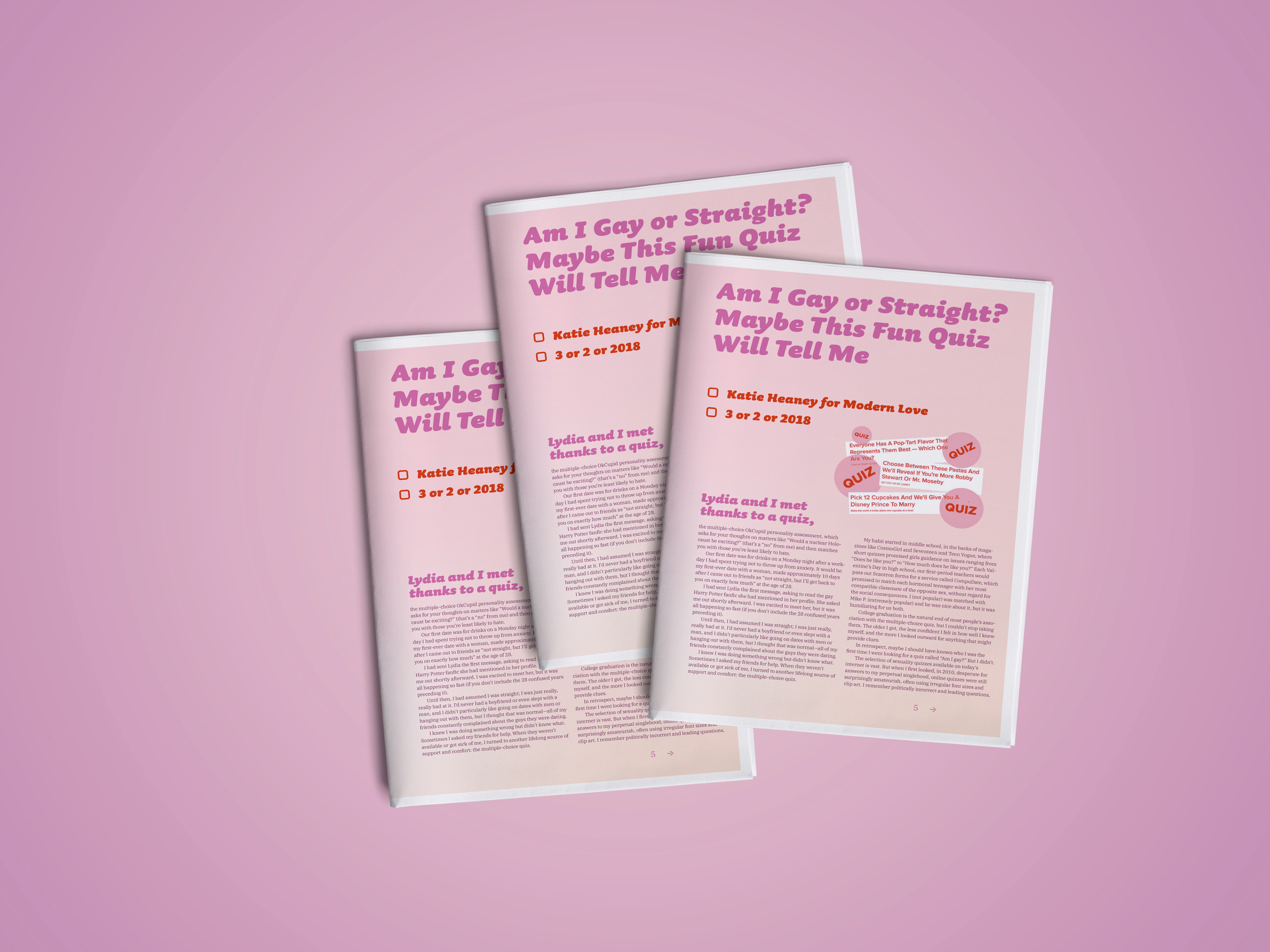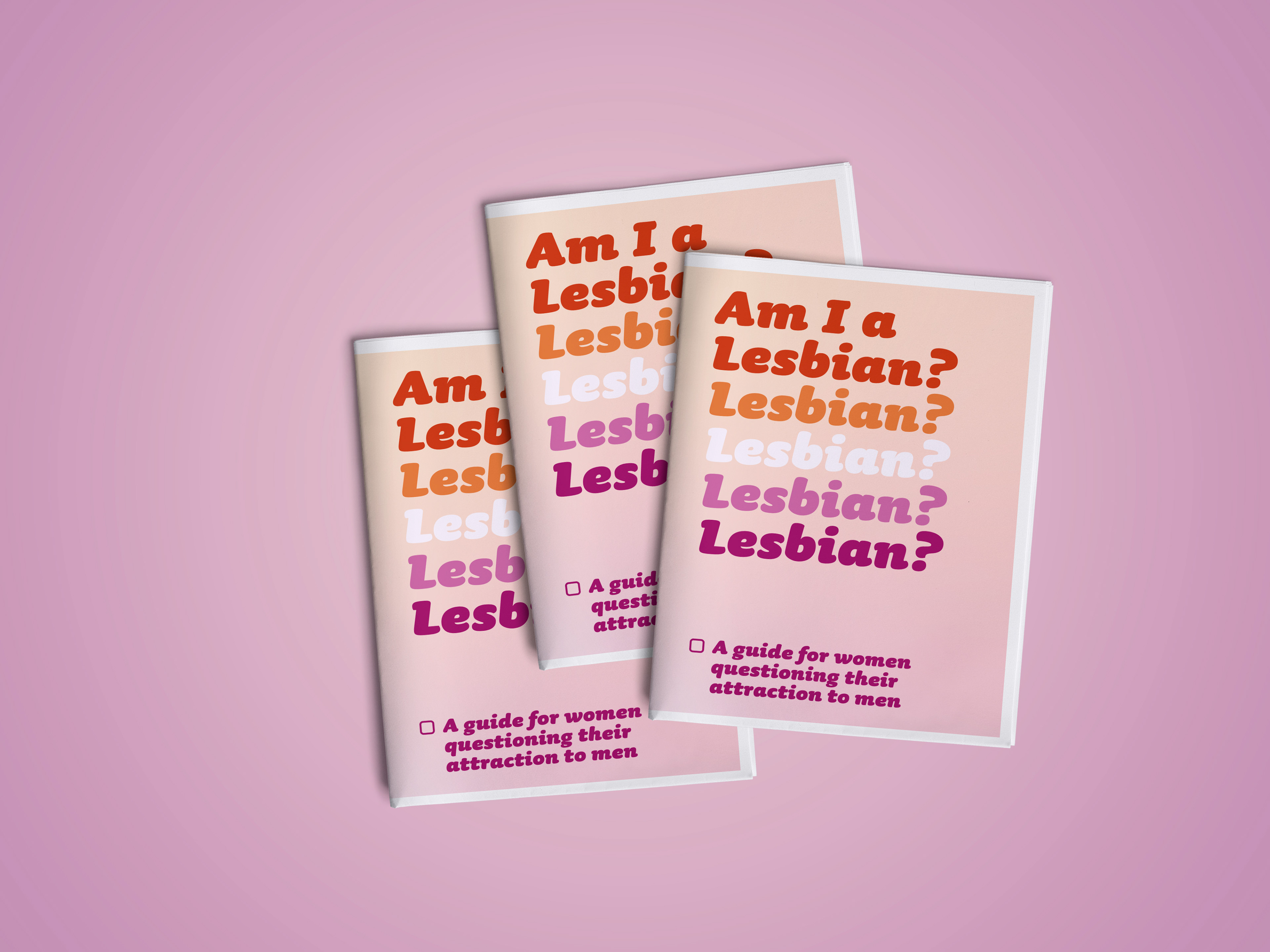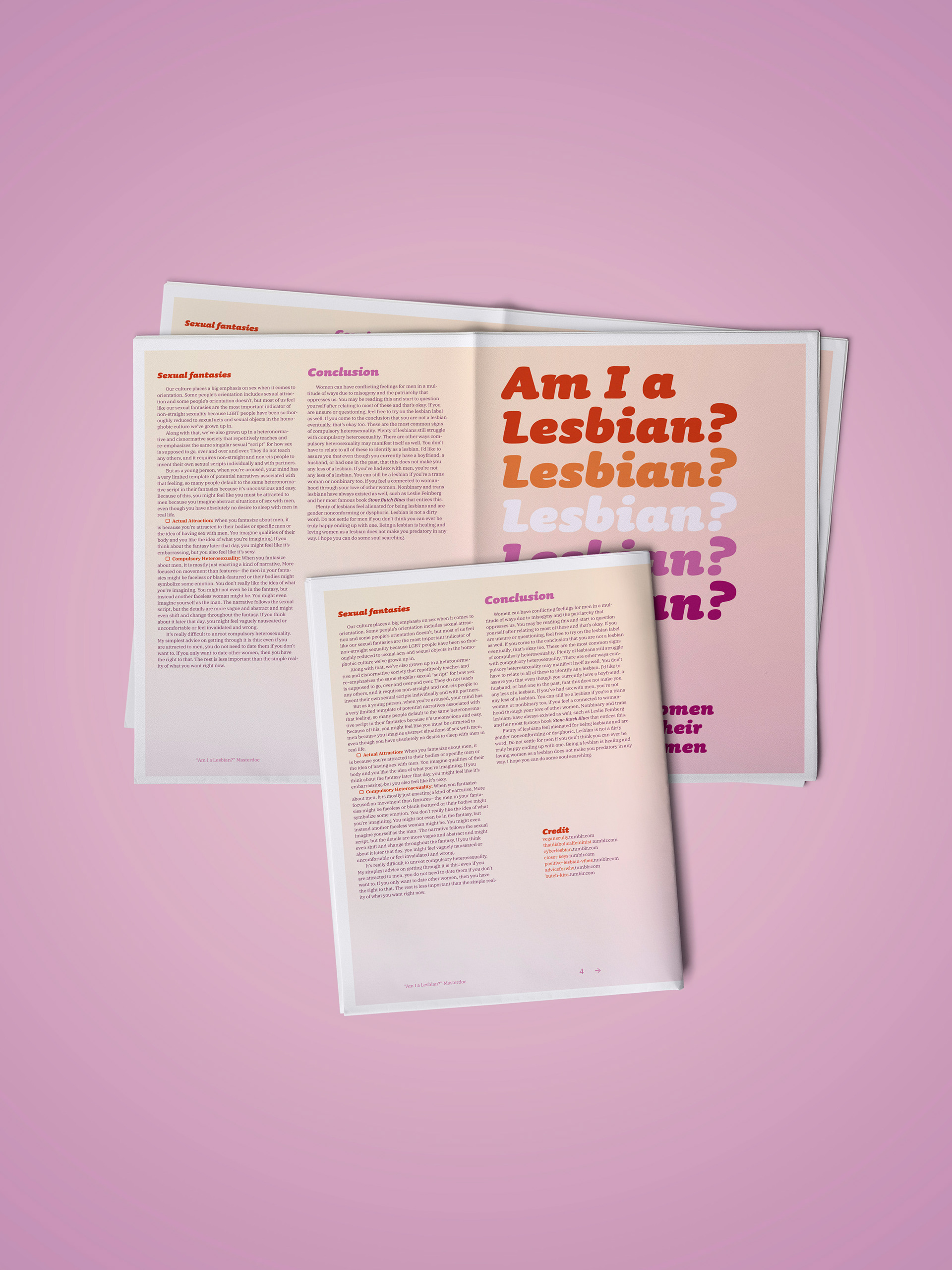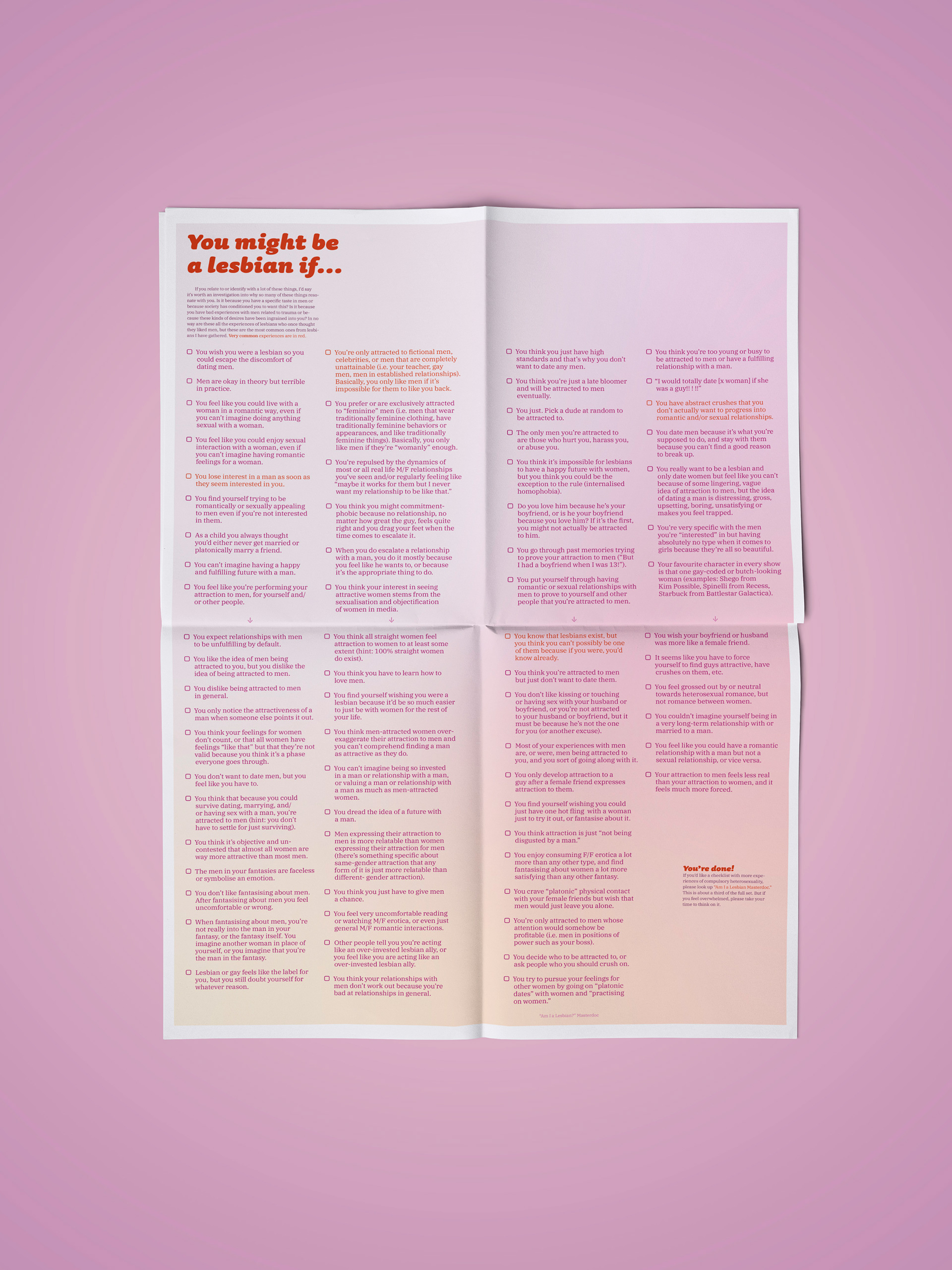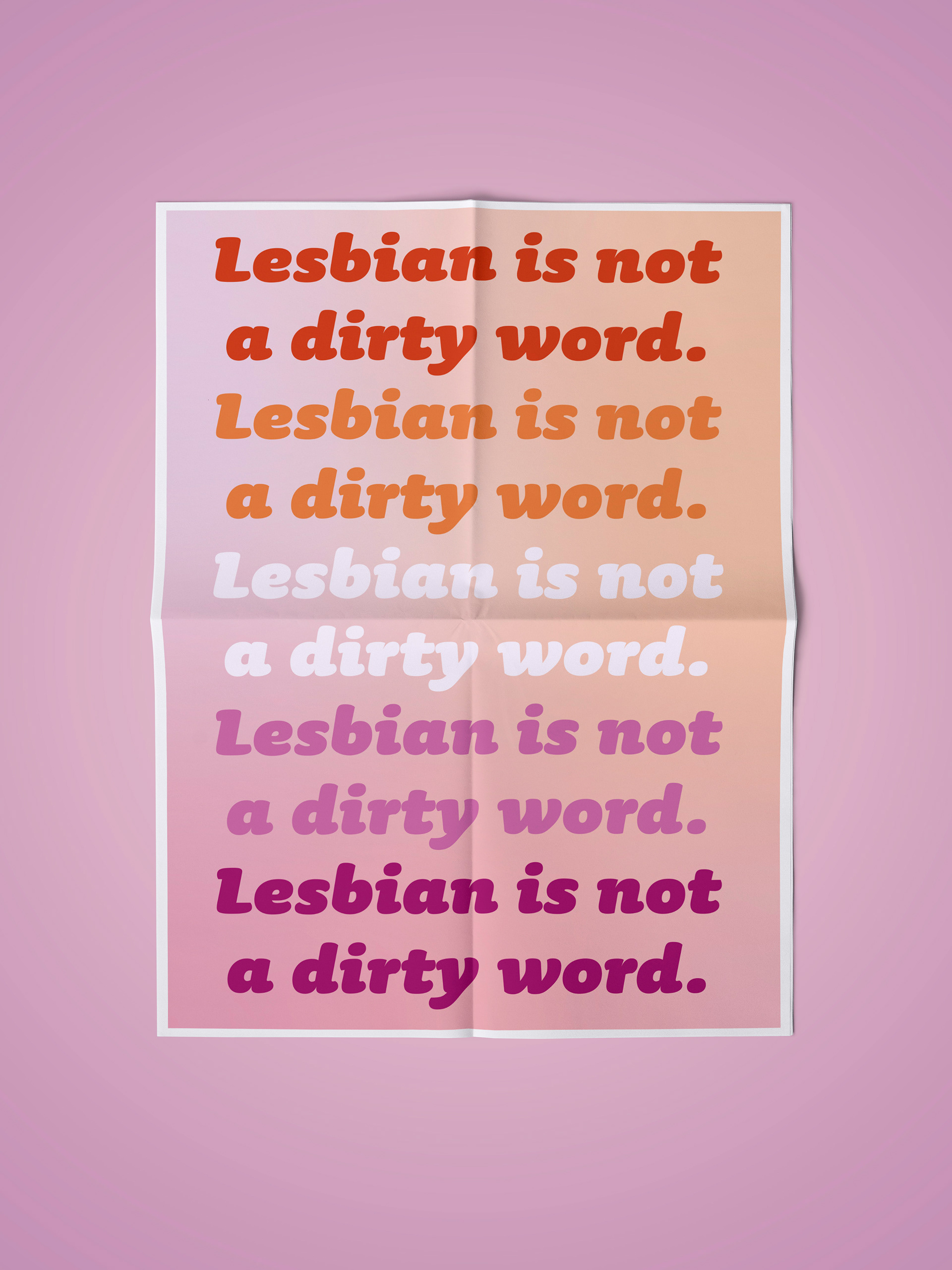 270 by 2024
Future: what do you want to change? / Poster, postcards, and buttons for a pop-up exhibit / December 2020
270 by 2024 is a set of posters, postcards, and buttons meant to encourage people to reach out to their legislators to push
the National Popular Vote Bill
. The bill would ensure that whichever presidential candidate wins the national popular vote wins the presidency.
My poster incorporates warped data vis that represents the 196 out of 270 electoral votes the bill already has, compared the 94 it still needs. The warping evokes a flag in motion and alludes to a sense of mutability and possibility. To create the flag texture, I used a flatbed scanner to scan my roommate's American flag while moving it to distort the resulting image.
I created postcards that constituents can write to their representatives to endorse the National Popular Vote Bill. I selected the
states
where the bill has been introduced but not passed, such as Arizona and Georgia. Also included are 1-inch buttons saying variations of "MAKE YOUR VOTE COUNT," "MAKE [STATE ABBREVIATION] COUNT," and "MAKE EVERY VOTE COUNT."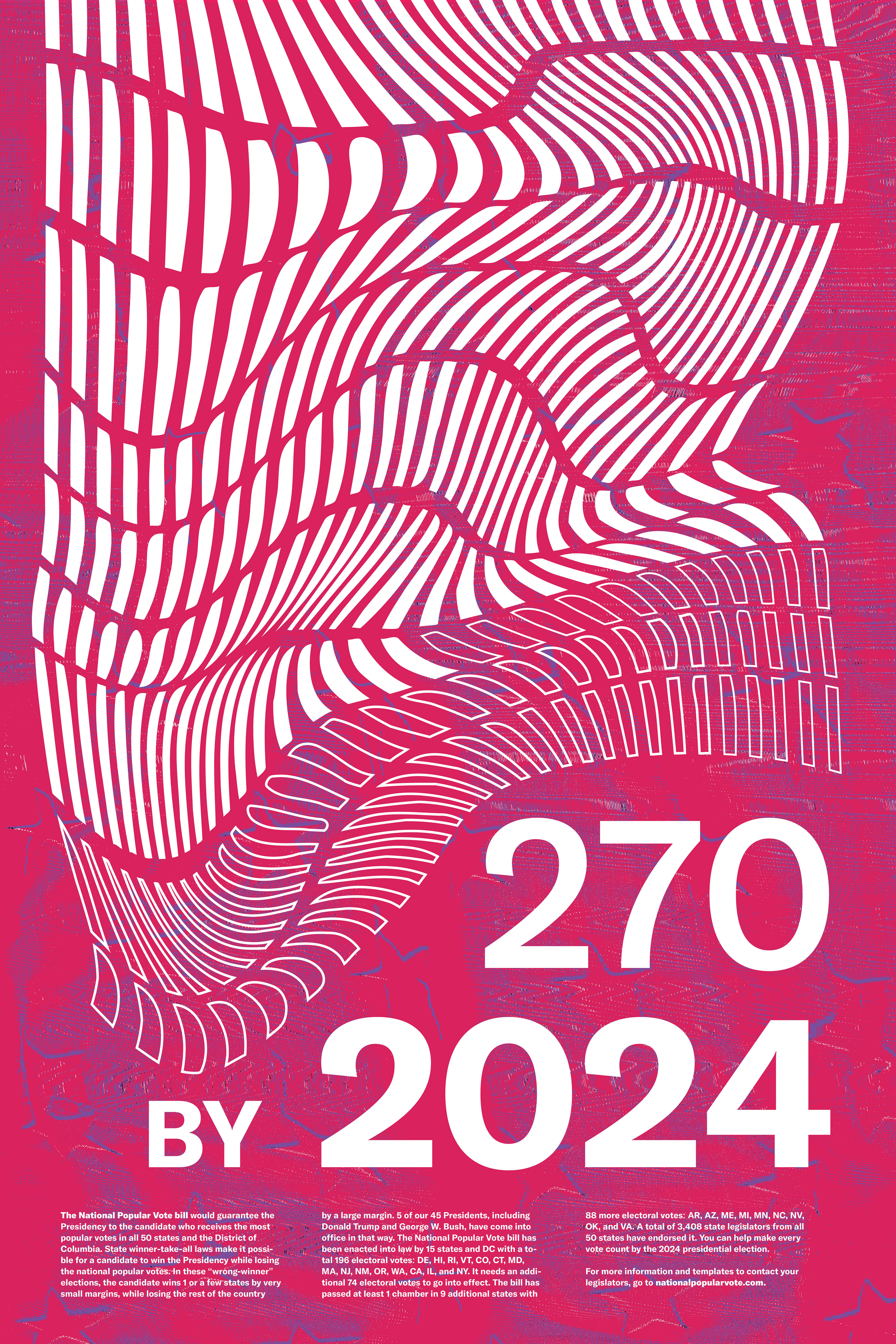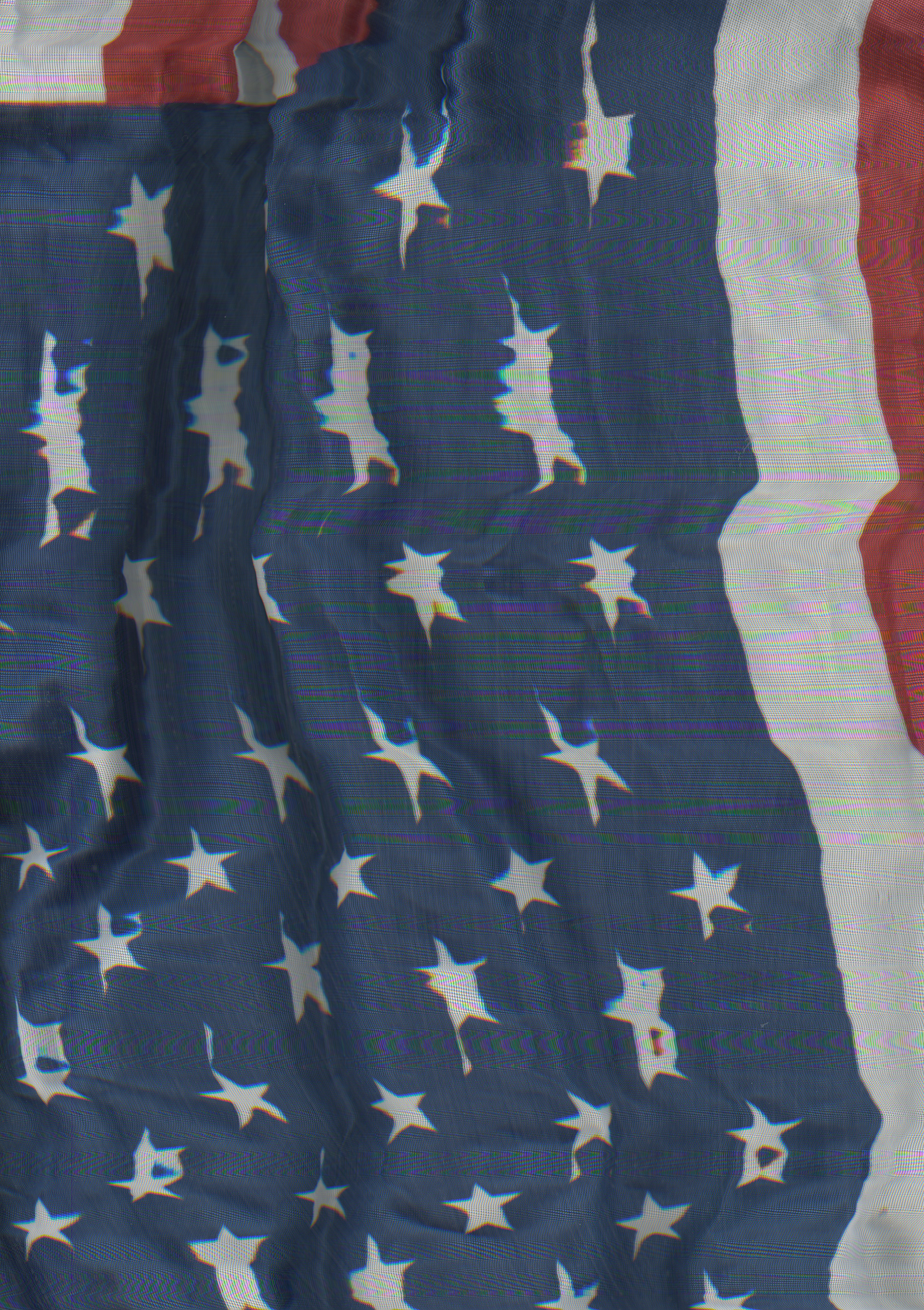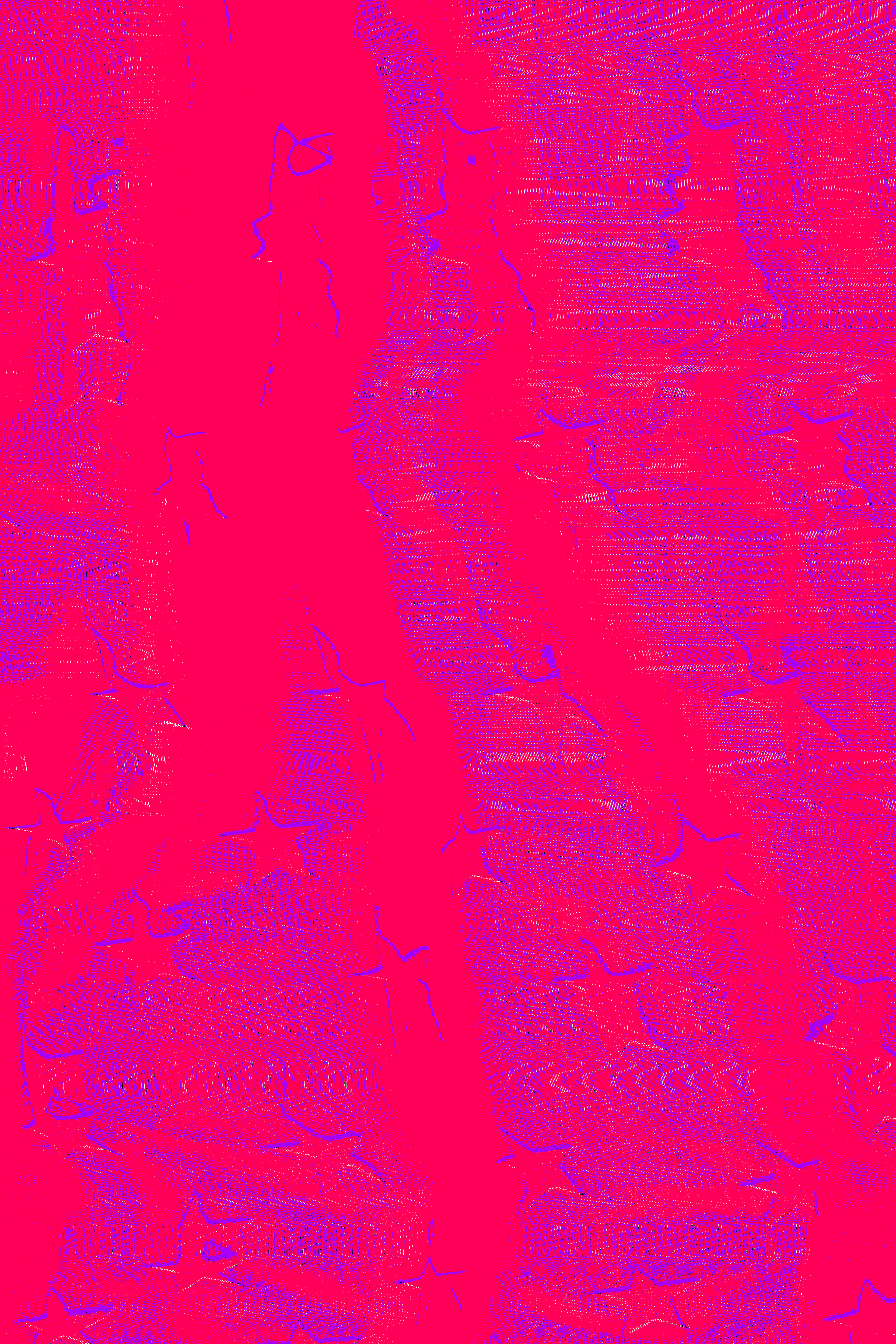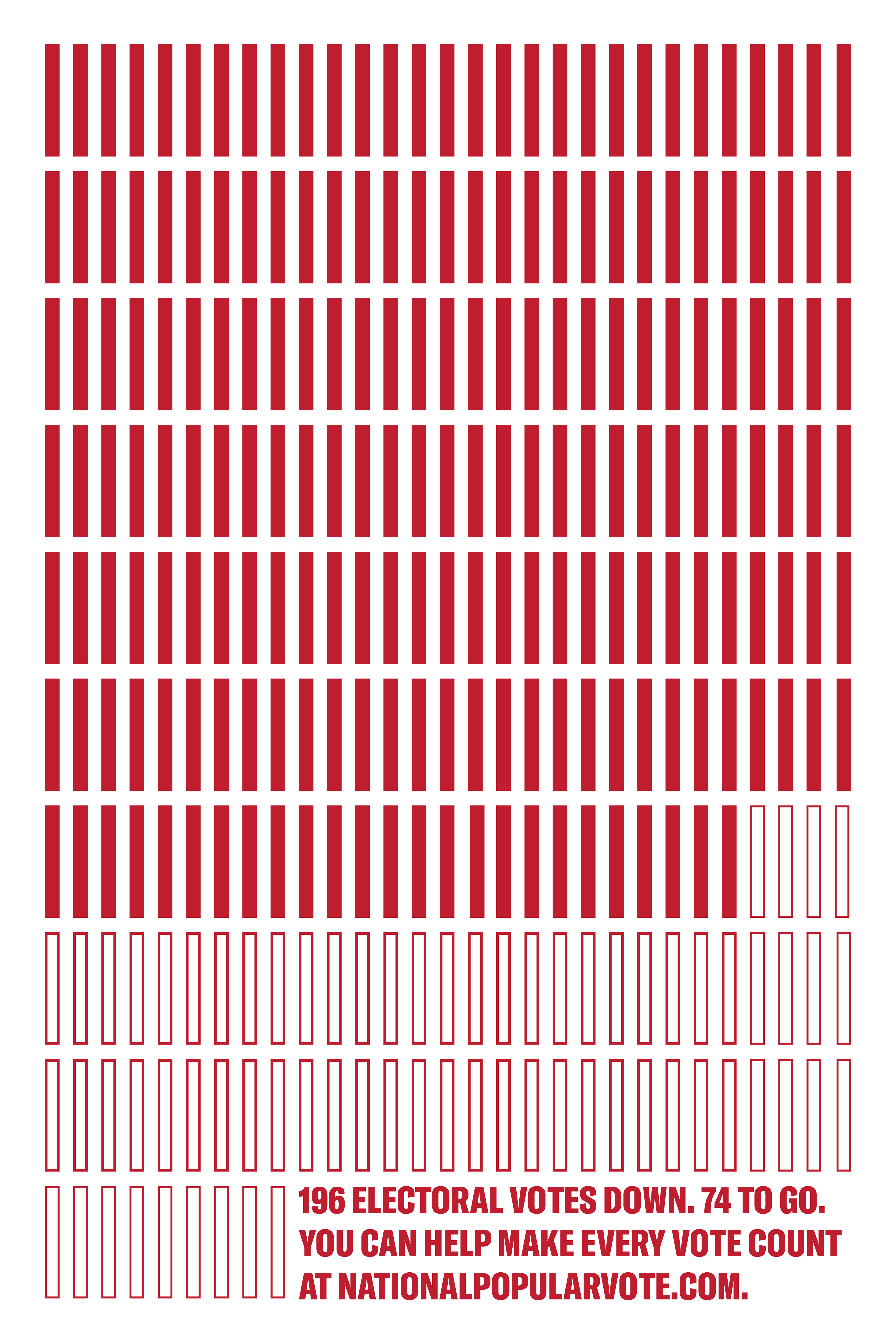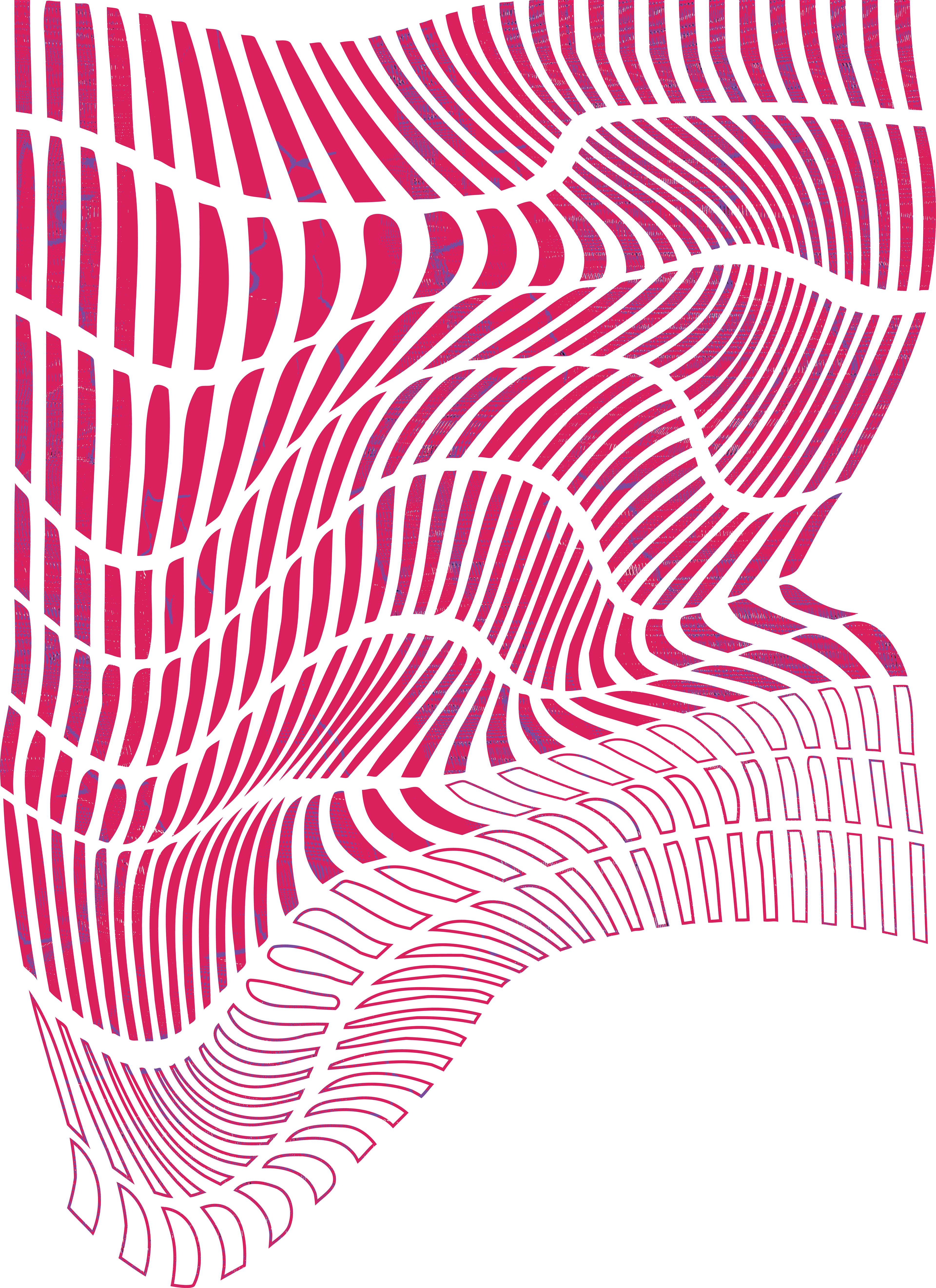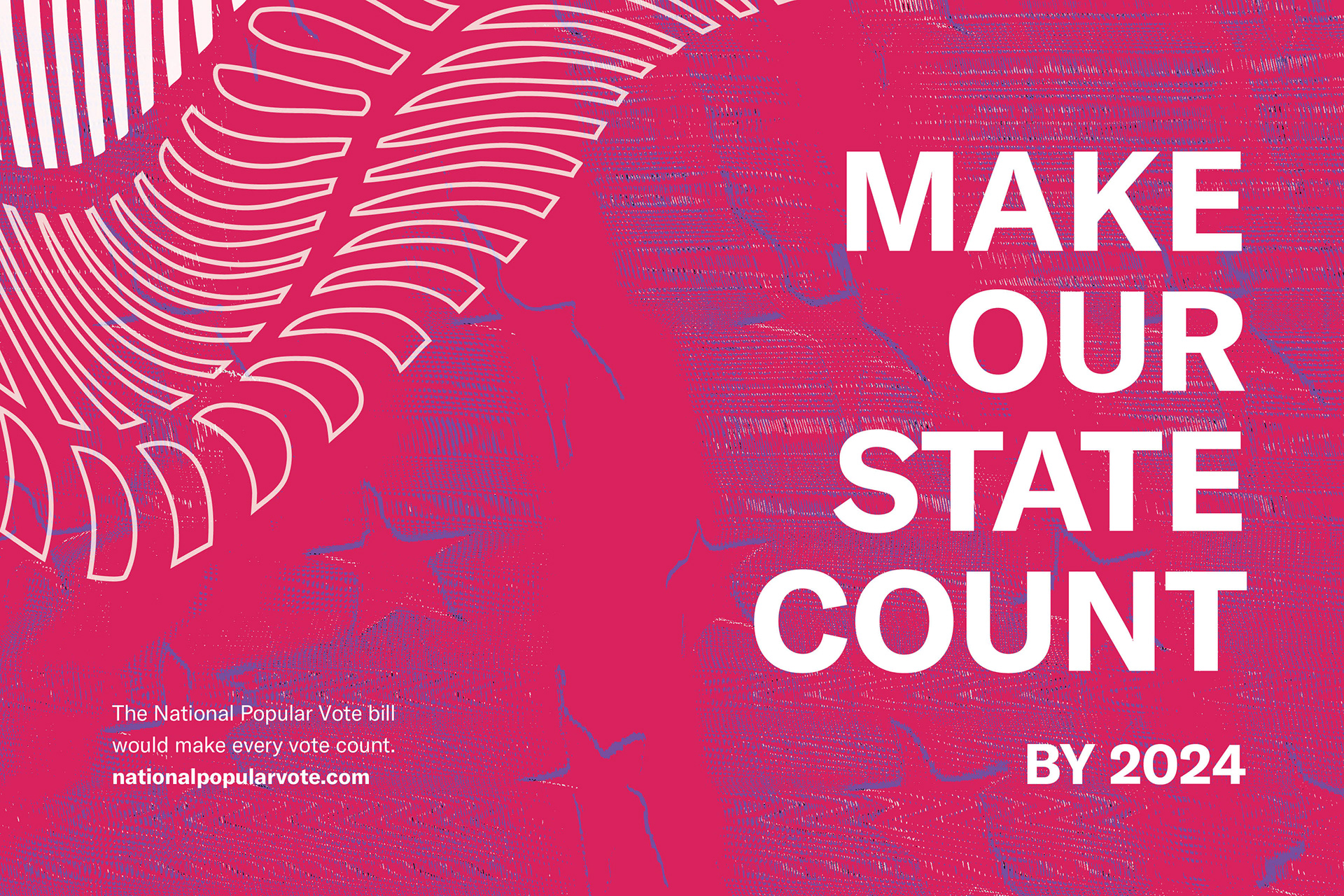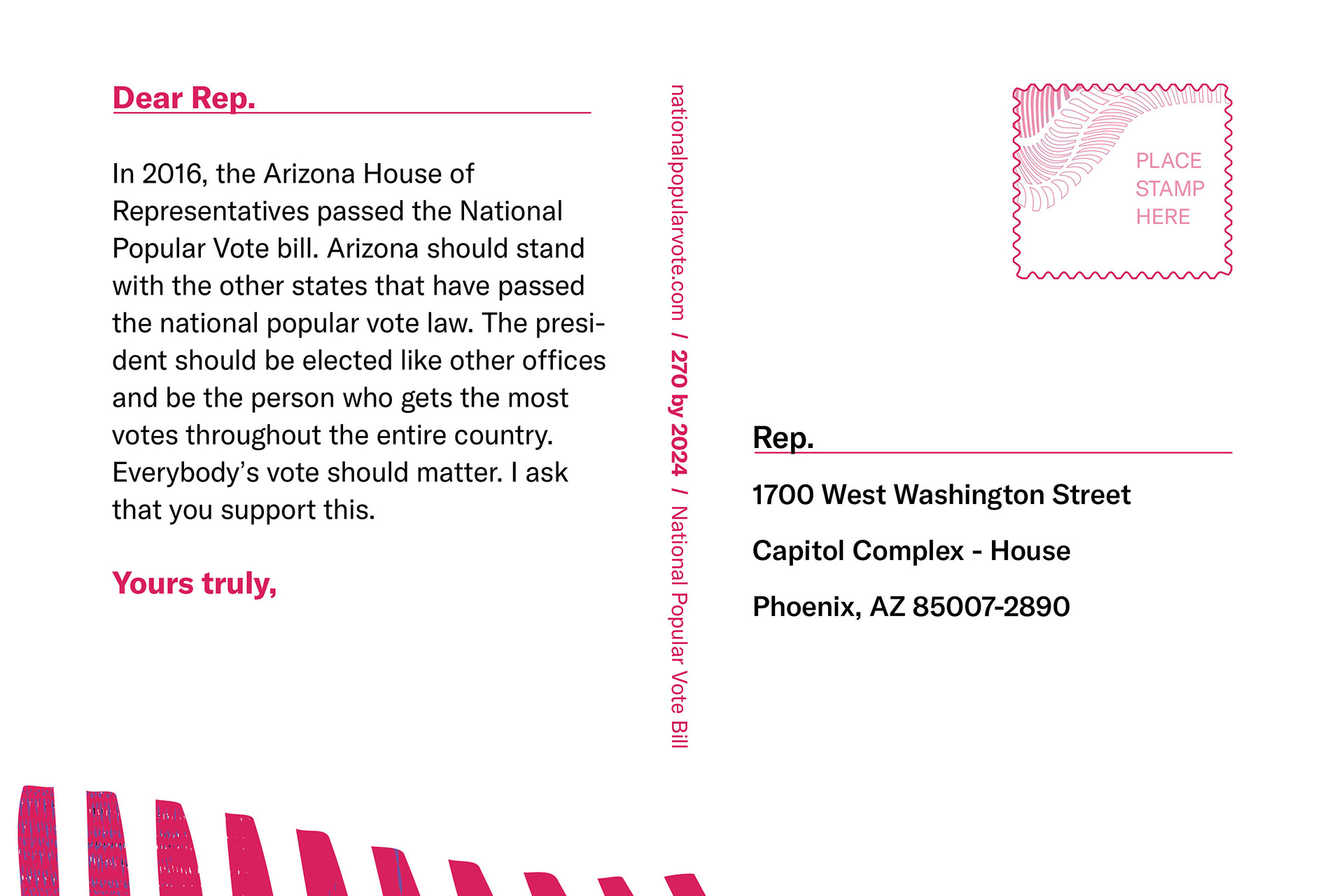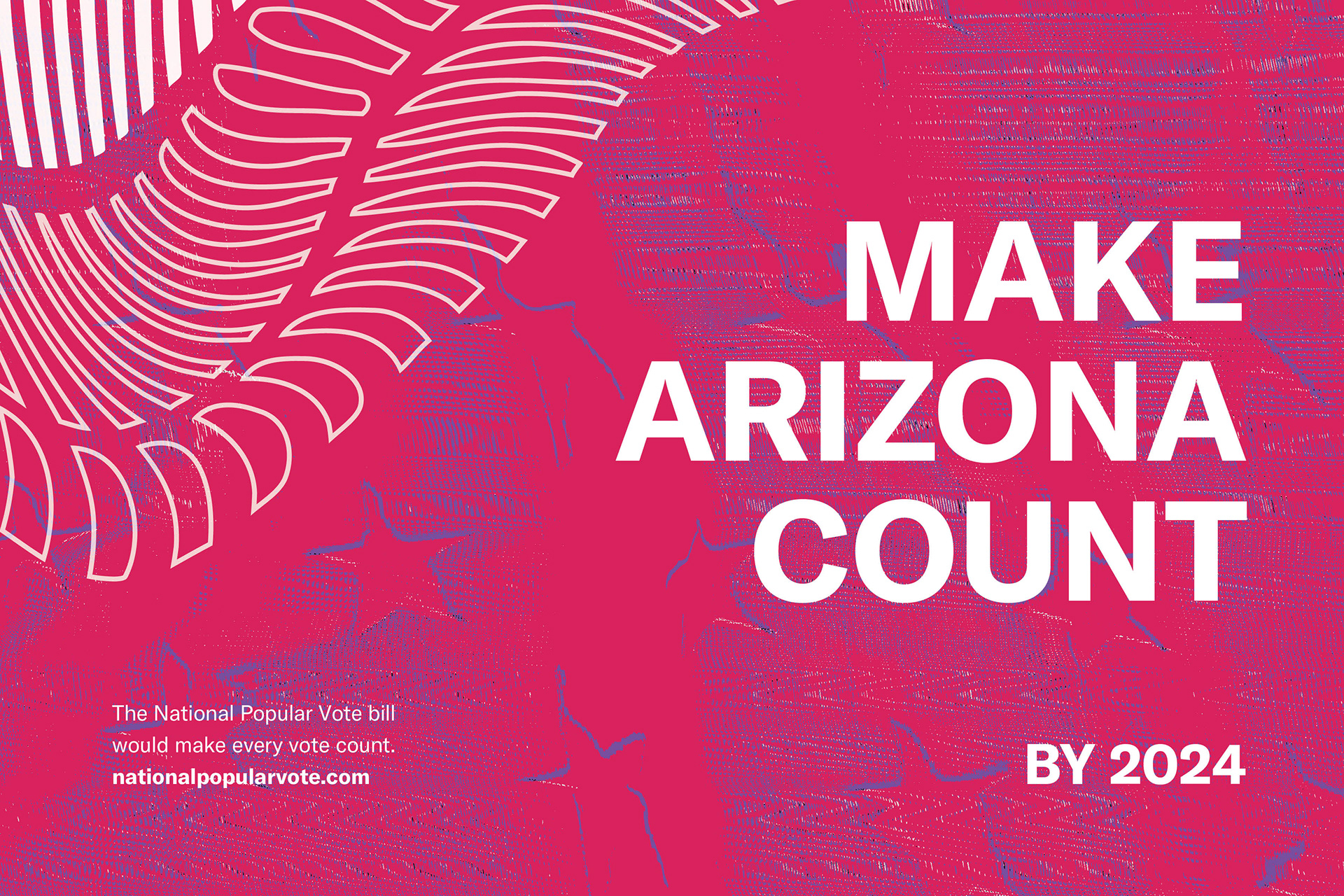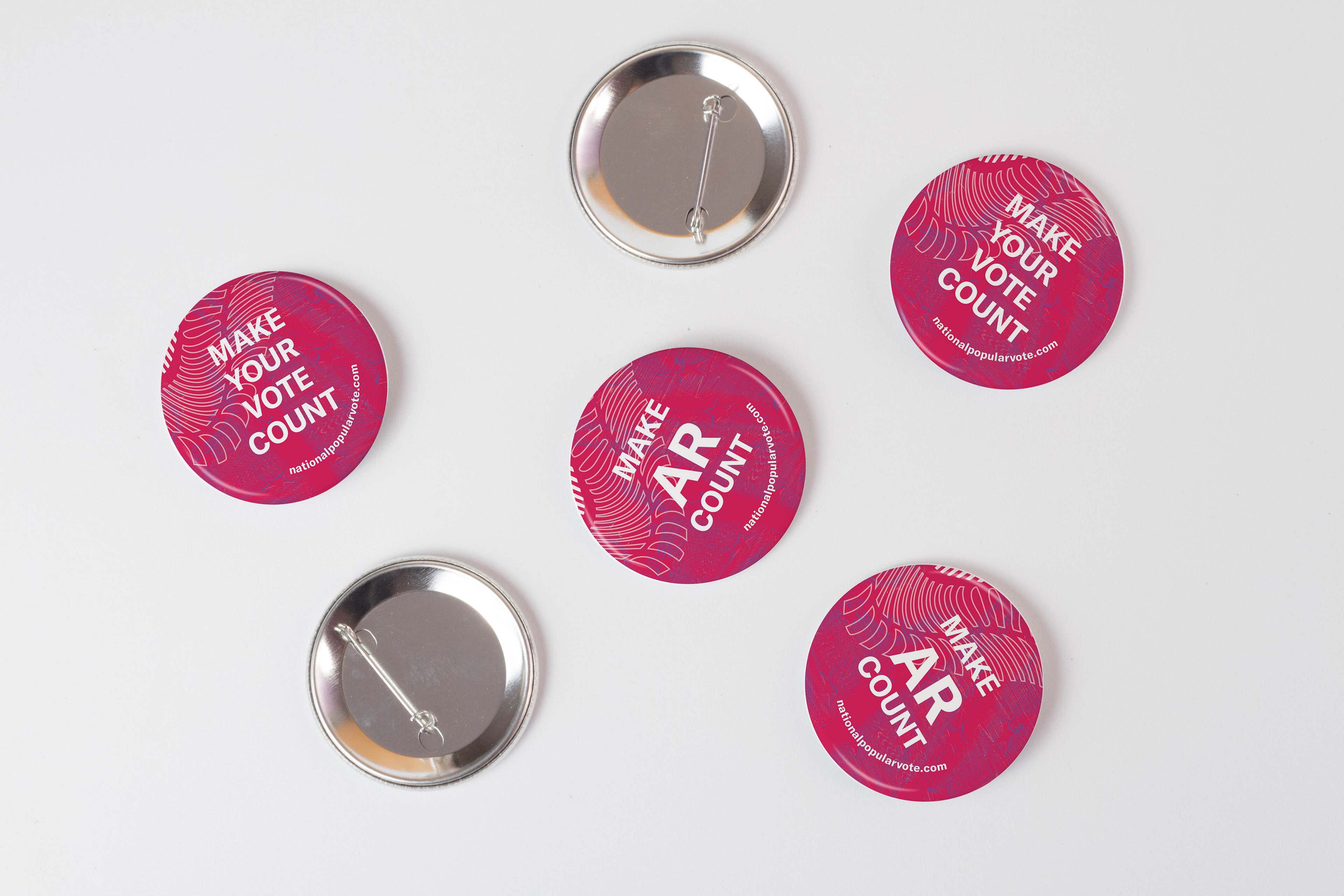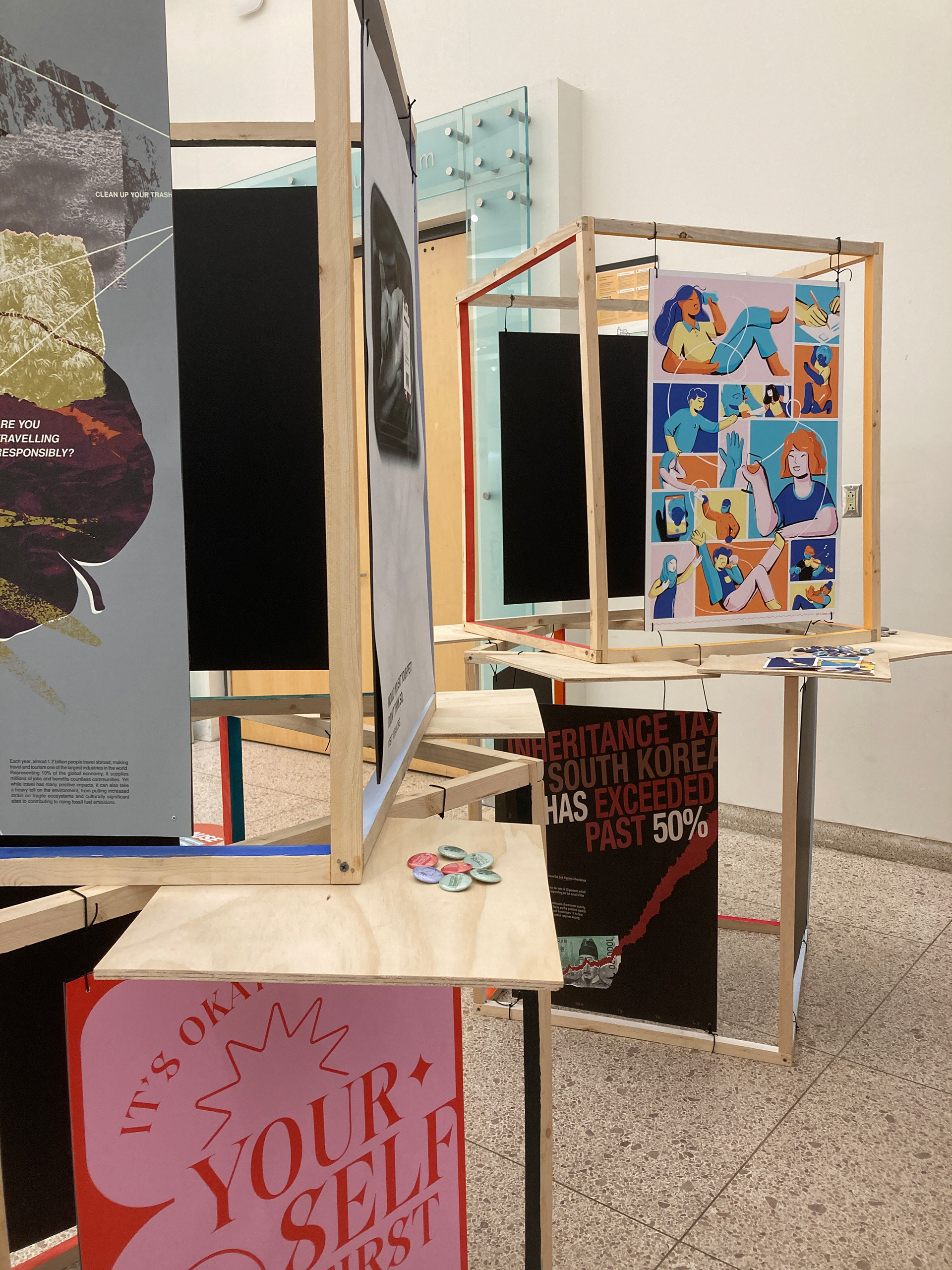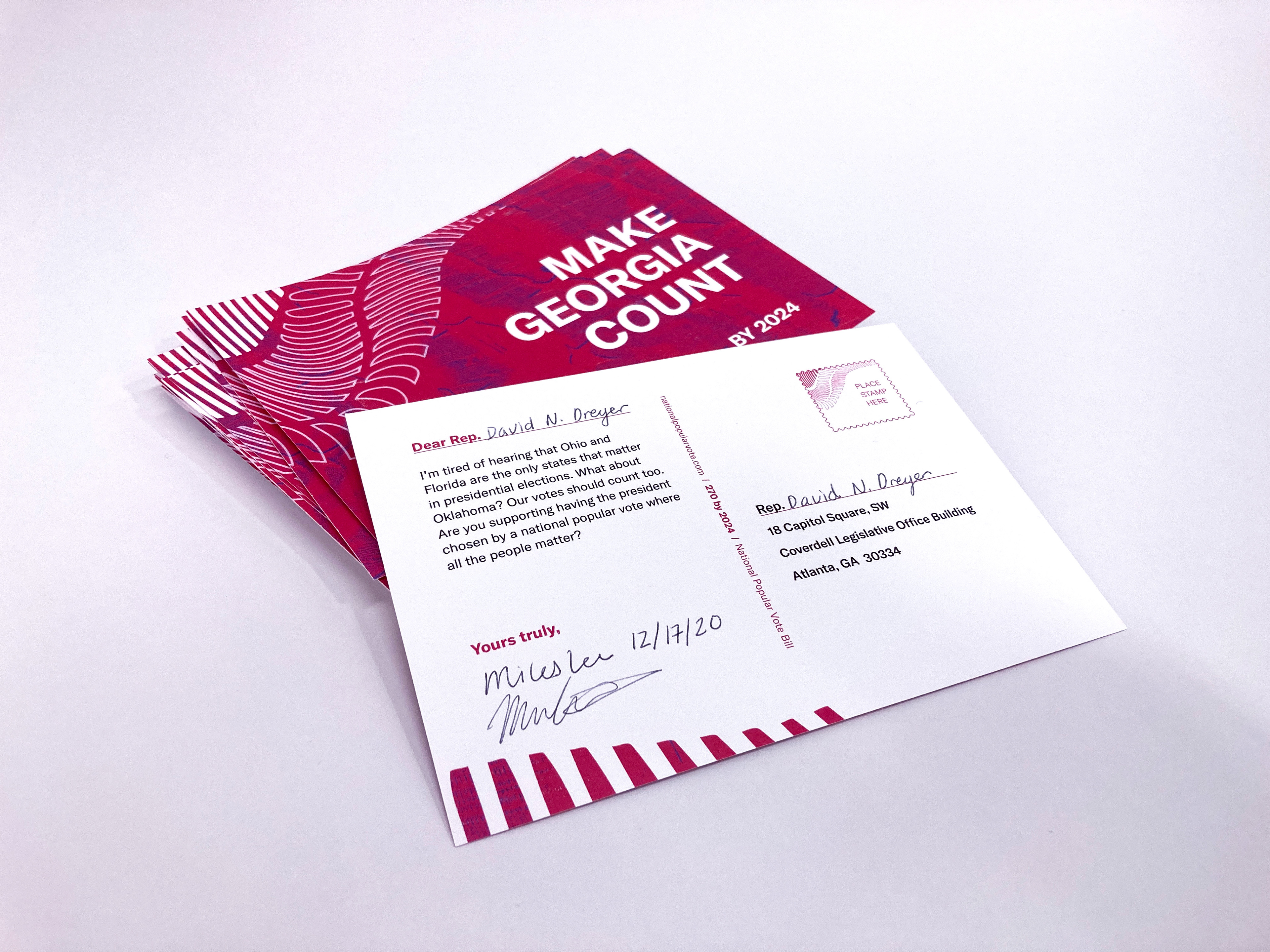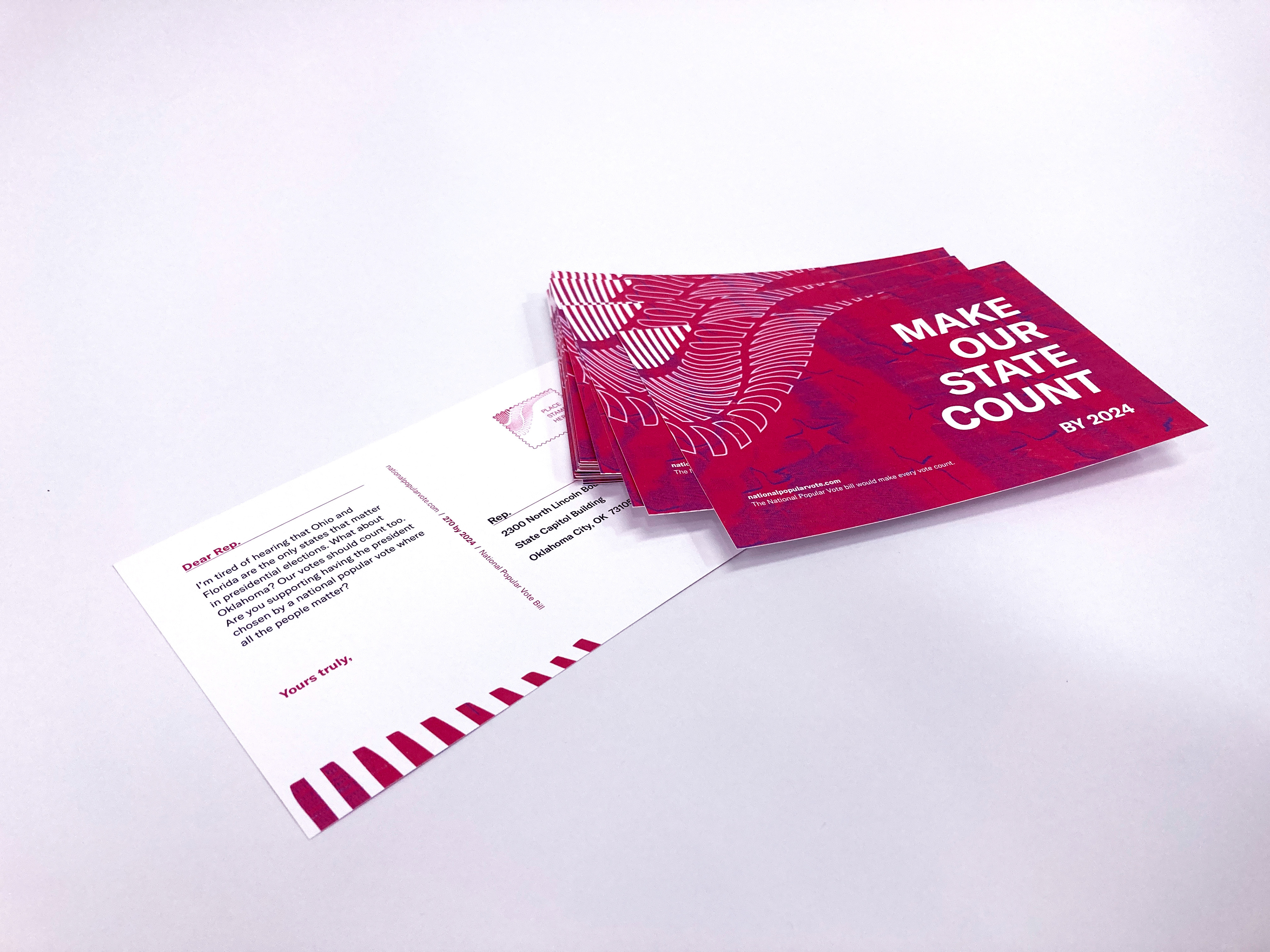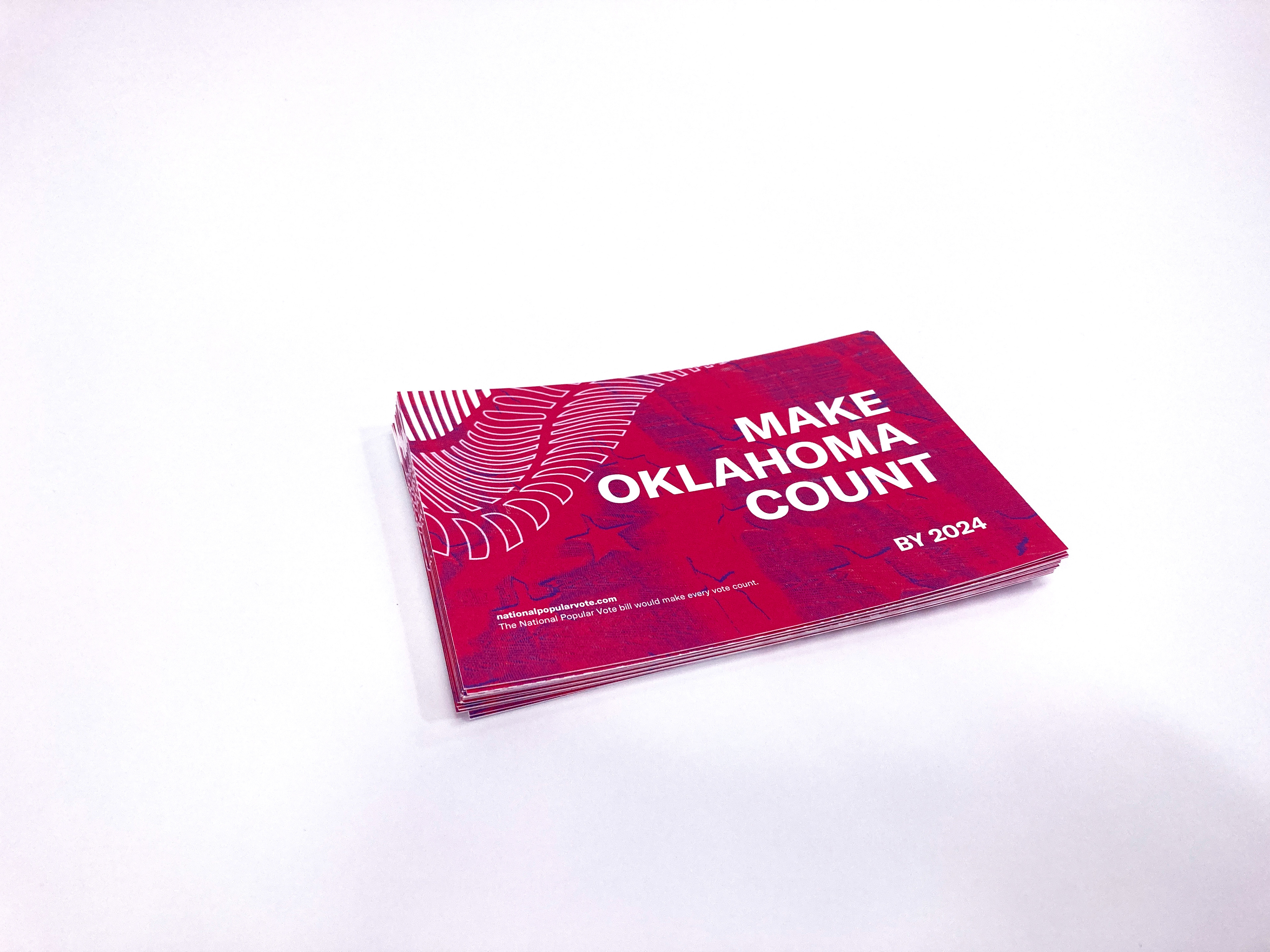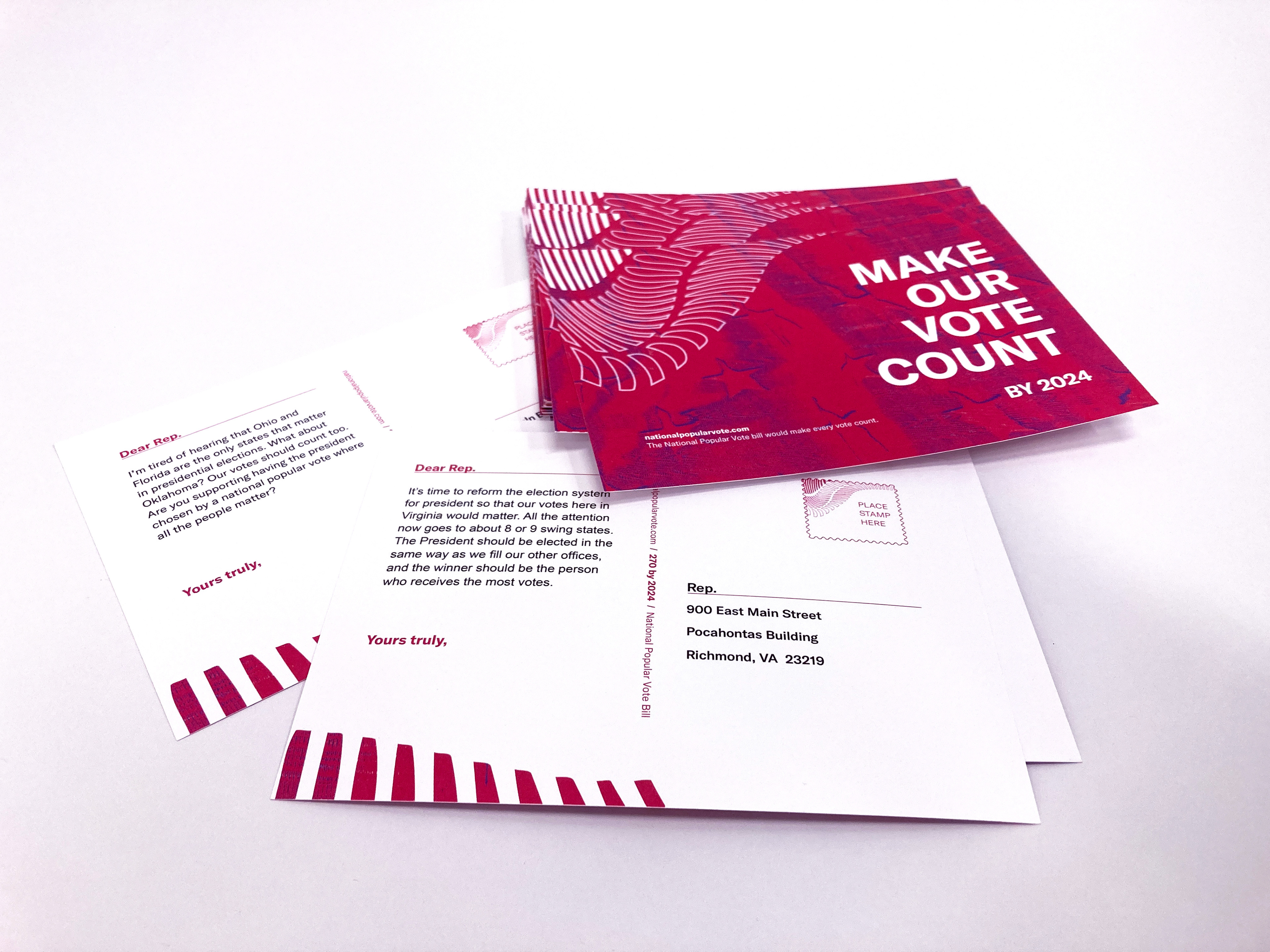 In the near future, I hope to print out more postcards and sell them on my Etsy store. If you have any interest,
email me
!
This class, especially during a difficult semester, forced me to consider what really matters to me. I almost wish that I made postcards about birds of North Texas (I'm an amateur, casual birdwatcher) for the Past project, but I'm glad I got to pay tribute to a thought-provoking podcast that has brought me so much comfort (you could almost say that Cameron Esposito and everyone else who makes QUEERY happen is my queero, or queer hero!).
Moodboard
We started the semester by creating visual moodboards, which I interpreted as a board for my some of my inspirations (32 of them) that share themes of storytelling, design ethos, building LGBTQ+ community, and humor.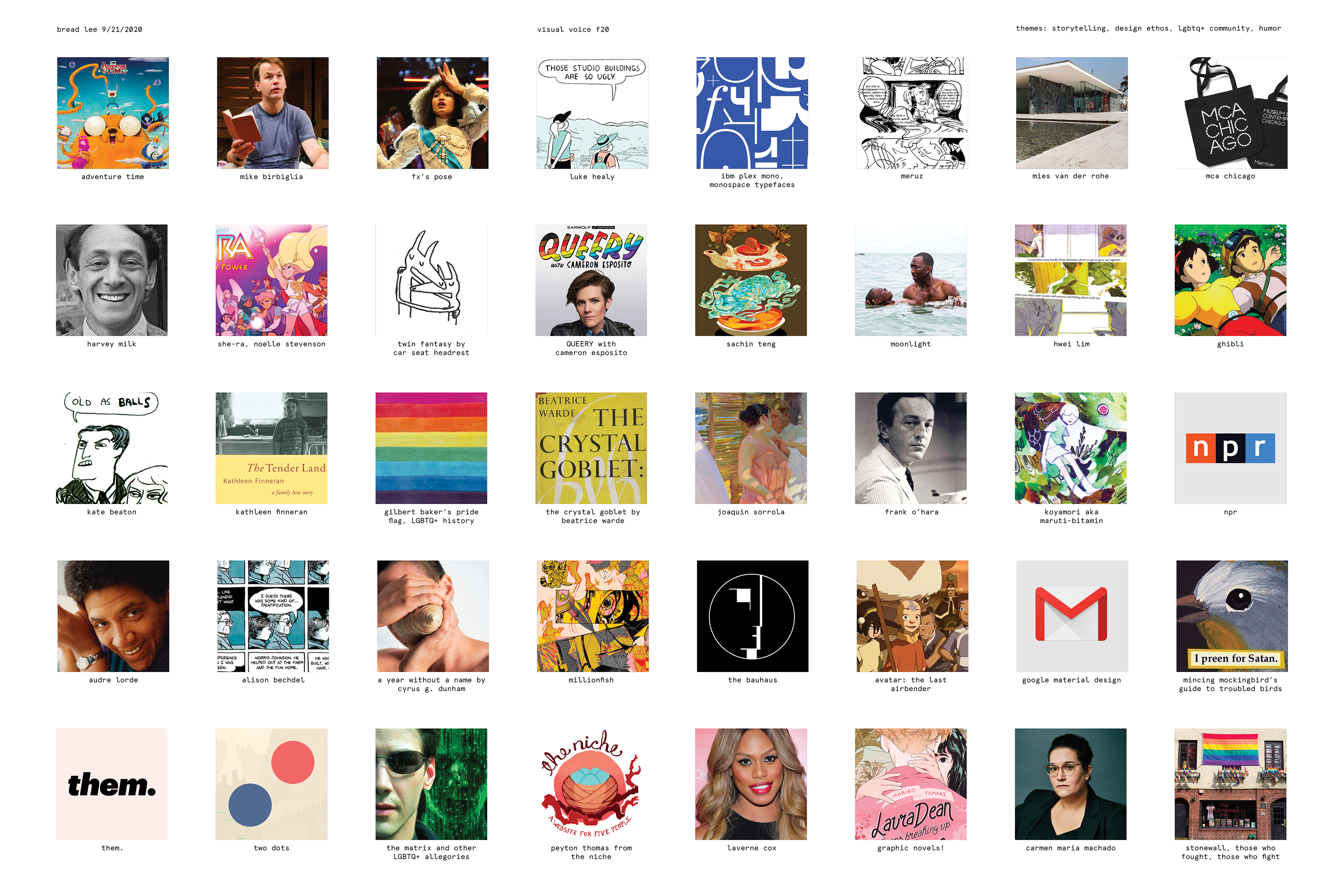 Inspirations: Adventure Time, Mike Birbiglia, FX's Pose, Luke Healy, IBM Plex, Meruz (Mariel Rodriguez), Mies Van Der Rohe, MCA Chicago, Harvey Milk, She-Ra and the Princess of Power (and Noelle Stevenson), Twin Fantasy by Car Seat Headrest, QUEERY, Sachin Teng, Moonlight (2016 dir. Barry Jenkins), Hwei Lim, Studio Ghibli, Kate Beaton (harkavagrant), Kathleen Finneran, Gilbert Baker's pride flag, The Crystal Goblet, Joaquín Sorolla, Frank O'Hara, Koyamori (maruti-bitamin), NPR, Audre Lorde, Alison Bechdel, Cyrus Dunham's "A Year without a Name," millionfish (Comilla Paddock), The Bauhaus, Avatar: The Last Airbender, Google Material, the Mincing Mockingbird's "Guide to Troubled Birds," them., Two Dots, The Matrix (1999 dir. Lily and Lana Wachowski), Peyton Thomas from The Niche, Laverne Cox, graphic memoirs and novels (pictured: "Laura Dean Keeps Breaking up with Me"), Carmen Maria Machado, Stonewall (those who fought, those who fight). Share any with me? Let me know in an
email
!