Project Brief
Challenge:
Improve the apartment finding experience for WashU students looking to rent off-campus units
Goals:
Foster more open, direct communication between current residents and potential residents. Remove landlords as middlemen between current residents and potential residents (at least in early stages).
Solution:
A digital community-made map of apartments in surrounding neighborhoods with rent transparency
Timeline:
February 2021 to March 2021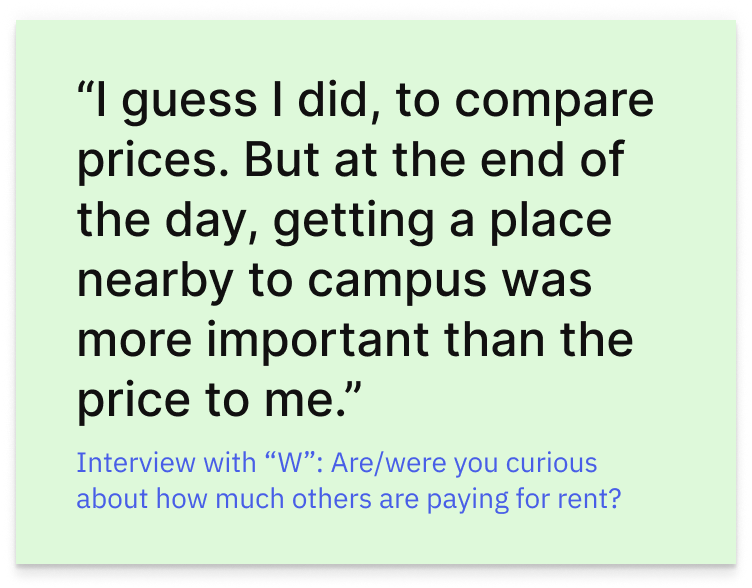 Core Assumptions

The Problem: There may be a lack of transparency overall about landlords, apartment condition, furniture, and rent, perhaps stemming from lack of empathy and access to information. The process can feel overly transactional when maybe it should feel more personal—finding and renting long-term living spaces can be complicated and scary. The landlord's goal is ultimately to sell the apartment, so they "may" not be transparent or trustworthy.
Audience and Needs: It may be difficult for students looking to rent off-campus apartments to find transparency from landlords, current services (like Zillow), etc. Current residents may also want to let potential future residents know the upsides and downsides of their apartment. It can also be difficult to coordinate furniture, either through moving out or selling to future residents.
Potential Approaches
Foster more open, direct communication between current residents and potential residents. Remove landlords as middlemen between current residents and potential residents (at least in early stages).
Project Constraints
It would maybe have to have an underground word-of-mouth vibe to it, since landlords and other services might not appreciate a focus on transparency (ie: class solidarity, etc). I also worry that current residents may also just want to sell/sublease their apartment and may be less willing to be transparent. I am a senior and may not have easy access to first- and second-year students. Unfortunately, I will not be able to solve issues around tenant rights, capitalism, gentrification, property management, and racism.
Preliminary Goals
Open communication between current residents and students looking to rent. Encourage transparency of current residents. Enable current residents to coordinate selling furniture to future residents. Foster a more personal, empathetic apartment hunting experience. Decrease reliance on landlords in the decision-making and touring process.
Research Methods

3 heuristics evaluations of peer/competitor products to gain an understanding of niches that different products fill and how they fill them
3 interviews using video call to glean in-depth, individual information about experiences
1 survey using Google Forms to gain broader insights from a wider range of people

Heuristic Evaluation: Zillow

Interviews
"A" she/her, Chinese-American, WashU alum (9 semesters), Sam Fox School
"S" she/her, Black, WashU senior, School of Engineering (McKelvey)
"W" he/him, Chinese-American, WashU senior, School of Arts & Sciences
Interview Insights: "A"
"Most landlords around WashU are fucking crazy but in their own way. Might try to upsell, overcharge, be weirdly strict, be creeps. Have to suss them out. Asked people 'what's your landlord like?' people like to talk about their shit. I know that [] is a creep, weirdo, and never fixes anything."
"A lot of WashU students are so rich because they don't care, and students don't know anything about tenant rights. They're too busy to fight anything or look into anything in depth. So a lot of students get taken advantage of."
Interview Insights: "W" 
"I guess I did [ask people about their rent], to compare prices. But at the end of the day, getting a place nearby to campus was more important than the price to me."
"I don't like [my landlord] that much. She kinda sucks. She's just… very nosy. And also greedy. And she did some shitty things." 
"The monthly utilities came in and she split it among everyone here (3 people), and "E" lived here 10 days. Then she charged "E" for those 10 days she stayed. So the landlord got extra money."
Interview Insights: "S"
"The problem is that college students want rent that's dirt cheap. I talked to "AU" about my rent, but she was like "oh you pay that much for rent? Wow! We only pay $500 per person." But their apartment was clearly older and they only had one bathroom for 3 people." 
"[Living off campus] saves money. Even if this apartment is $800 a month, I'm still saving way more money than I would if I lived in the Lofts. I guess my scholarship pays for it. It's more like I get a refund check."
Surveys
Mix of questions: mandatory, optional, checkboxes, scales, longform answers. Topics: rent, landlord, tours, satisfaction, challenges, searching. 
Survey questions
45 results! All respondents were WashU students and alums since they were my target audience: 51% seniors, 31% juniors, 11% alums. 
Survey results
​​​​​​​
"landlords are the scum of the earth"
"Friends come from a a lot of different socioeconomic backgrounds. Personally, my parents pay my rent so I have more flexibility in how much I spend and it doesn't affect my personal finances. Lots of friends pay their own rent."
39 respondents chose affordability of rent as 1 of their top 3 concerns.
Synthesizing Research: Affinity Mapping
Helped me to see commonalities and densities of responses from interviews and survey
I found that lots of responses connected to each other, so grouping them all was time-consuming but insightful
Areas of interest: lack of knowledge of local landlords, negative experiences with landlords, discussing rent with peers, student apathy, gentrification
User Personas and Journey Maps
I created two user personas informed by distinct insights from my affinity mapping.
Gladys: Junior living off-campus, dissatisfied with current unit. "Landlords are the scum of the earth." Community-focused, anti-capitalist, values transparency and honesty, wary of scams
Neil: Sophomore moving off-campus for the first time: less experienced. "At the end of the day, proximity to campus is more important than the price to me." Individualistic, values comfort, wiggle room in budget
Ideation & Concepting
Gladys needs a way to receive transparent information from peers.
Gladys needs a way to find units with decent conditions and landlords.
Gladys needs a way to openly discuss rent, landlords, and living conditions.
Neil needs support in the transition from WashU ResLife to landlords.
Neil needs a way to find available units with good amenities close to campus.
Neil needs a way to receive advice and mentorship in his search.
8-box Exercise and Prioritization Matrix
1. Site like ratemyprofessors
2. Communal database of local landlords (like the yellow pages)

3. Map of all landlords' units in St. Louis and rent cost (narrative of gentrification)
4. Report a landlord text bot (legal? communal?)
5. Guide to discussing landlords and rent (manifesto?)
6. Wall of landlords to watch out for (bulletin board?)
7. Report a landlord community service
8. Landlord advice helpline or bot
9. Tenant tours: tours by tenants (word of mouth, landlord info)
10. WashU landlords spreadsheet database (visual representation of form submissions, communally sourced)
11. WashU landlord complaints (legal concerns?)
12. Tenant/student-run map of available units
13. Anonymous rent submitter (form submission to map, with options like "should people contact you about the landlord?")
14. Facebook, Slack, Discord, or GroupMe of WashU-area landlord complaints and advice
15. Anonymous database of landlords where tenants (past and current) can say "contact me" so people can find word of mouth information hopefully without legal issues (because it's anonymous and asks people to reach out directly instead of posting information online)

16. Virtual apartment tour videos by tenants
17. Mentorship program between students living off campus and students looking to move off campus
Note: it's hard to balance privacy and legal concerns with accessibility of info

Research Interlude
To get a better sense of the products already out there in this specific niche, I looked into "rate my landlord"-esque services.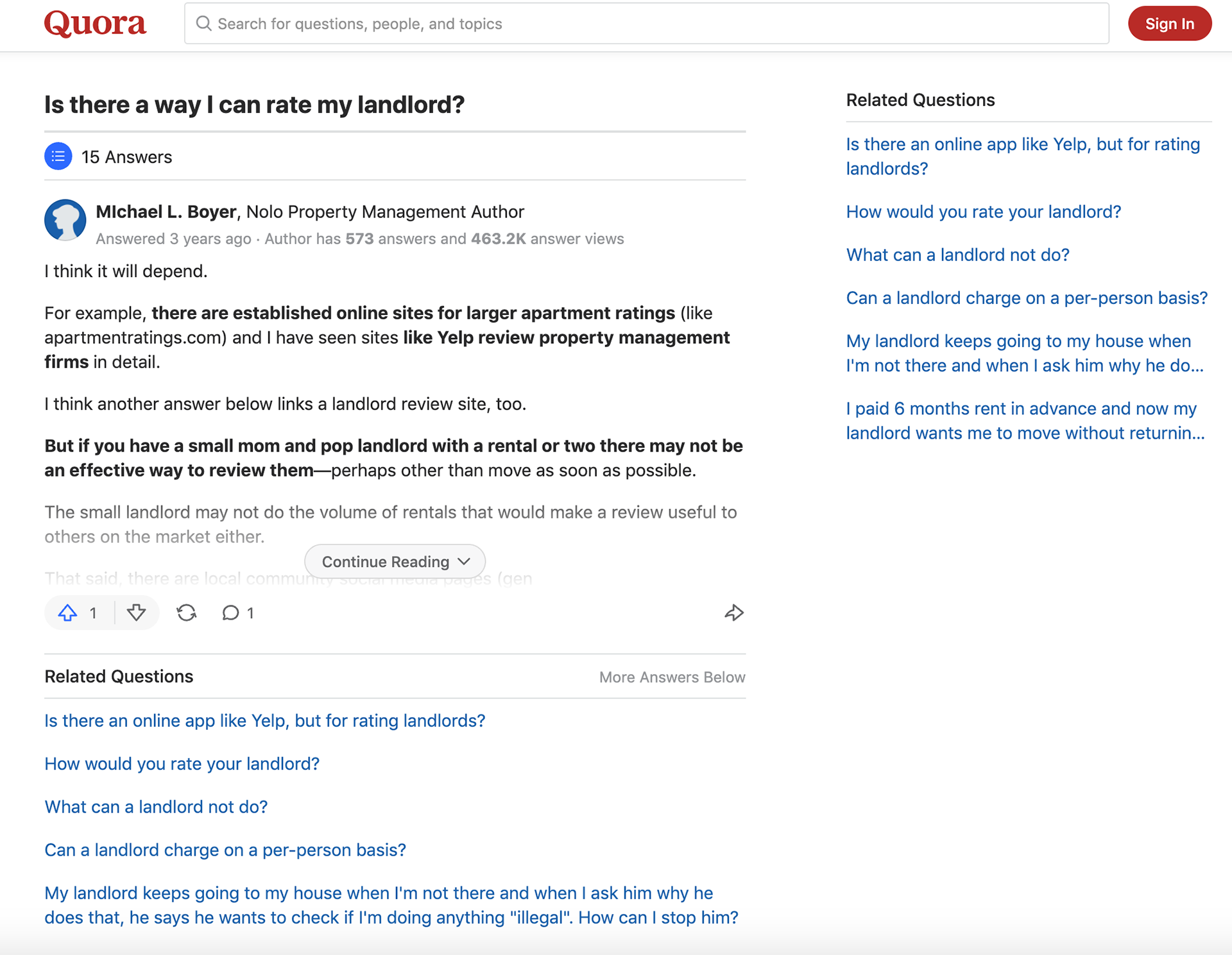 One alarming 
Forbes article
by Eric Goldman titled "Blasting Your Landlord Online? Pick Your Words Wisely" led me to prioritize privacy and anonymity. I moved forward with Idea 13: Anonymous Rent Database.
Key Takeaways
I really enjoyed the research side of interviewing people and collecting survey responses. This was my first time making surveys for UX research and I found the process quite challenging but rewarding in how much data (insights?) I was able to glean. Having a wide range of research to pull from proved extremely helpful in the ideation process!
It was challenging for me to create user personas who felt distinct and really think about the kinds of tools or "solutions" they would want. This was also my first time creating user personas, and it sometimes felt a little silly to create what were essentially original characters, but I do understand their importance, especially when the personas reflect research insights.
I learned so much! I hadn't really explored the UX research process in depth so it was really great to slow down and look at different factors that go into research. I definitely appreciated talking around the finer points of conducting surveys and interviews.
If I were to further work on this project, I would see if I could do more research and testing of different ideas. I made the prioritization matrices, but I did at times wonder if I was just making things up or if my assumptions were accurate. I think that I *am* working with constraints and assumptions, so really taking the time to assess those and talk to a wider range of people would be great.

Usability Testing
The next part of this case study was (pretty preliminary) usability testing. You can read more about that
here
.
The reviews are in...

"hi 🙂 your affinity map is exemplary . could i share with other students as an example (now or in the future?) let me know if you'd rather i don't. thanks 🙂"

Attribution
Inter
 designed by Rasmus Andersson
IBM Plex Sans
 designed by Mike Abbink, IBM BX&D, in collaboration with Bold Monday
Figma templates: Figma for Education (User Personas),
Saroj Shahi
 (User Journeys),
UX Theatre
 (Post-It notes)
Tools used: Figma, Google Forms, Google Slides