"January 2020" is a personal comic about long walks home and places you can never go back to. It depicts my typical walk during the early Spring 2020 semester from my studio desk in Sam Fox to my dorm in The Village across campus. Any of my walks from studio back home in the wee hours of the morning could be bleak and miserable. But that semester, I made it more bearable by listening to the song "Cough It Out" by The Front Bottoms (a band that's not for everyone). After the COVID-19 pandemic forced WashU students out of on-campus housing, I realized I would never take that same walk again.
This comic is featured in a zine project by
Lucy Chen
.
The Premise
The concept began in January 2021 as a semester-long project for a writing class.
"I've been thinking a lot about the disruption of routine (caused by the pandemic). Back when I still stayed in studio for ungodly amounts of time, I'd have to walk across campus to my on-campus apartment past 2 AM. St. Louis winters are frigid, so I'd be wearing layers and gloves and all, but I could still see my breath and shoved my hands in my pockets. I was the only person in sight. I'd play "Cough It Out" on my phone out loud from my pocket. In the long trek, I'd sing along under my breath on loop until I was back inside. Before I graduate in May 2021, I realize it's likely that I won't ever be able to see or visit certain places on campus ever again."
"Last year, whenever I had to make the trek from studio to my dorm room apartment (the village) past 2am, I'd put on The Front Bottom's "Cough It Out" then put my phone in my pocket with the volume up. In the frigid night air, it'd be the only noise present, along with the sounds of my own walking. There was no one else but me. And the lead singer of the front bottoms' muffled singing. And my own singing along with him. I'd usually pass one or two strangers by Bauer, in which case I'd lower the volume until I was sure they'd pass. When I reached my dorm, I'd open the door to find the lights off and the air still, with all my four suitemates asleep."
Key elements: A long walk from my desk at Sam Fox to my suite at the Village (the hypotenuse of campus), the wee hours of the morning, the frigid air, winter clothes, seeing (almost) no one else, listening to the song "Cough It Out" by The Front Bottoms, singing along, my four suitemates already asleep.
At the time, some of my inspirations for this project were "You Need to be Patient" by Mariel Rodriguez (@meruz), "Fun Home" by Alison Bechdel, and "Hair," a short illustrated booklet I completed in Fall 2020.
My goals and worries were as follows:
"Hopefully some sort of combination of imagery and words, whether it be more like a comic (like @meruz's "you need to be patient") or like a story with pictures (like "Hair")"
"Black and white imagery"
"Need to look at more (nonfiction) writing and/or comics that incorporate music"
"Think about the scope timewise and geographically: does it include getting kicked out of washu housing? Is it more focused on the particular walk?"
"Photo references? Not on campus yet, will be there march 1 ish and can take pics"
(Spoiler alert: I did not take pics)
Redemption
I ended up abandoning this concept until later. In November 2021, my friend
Lucy
asked me and many other classmates to make something for a zine. The prompt was "self reflection." Originally, I wanted to make a comic about the beautiful poem
"I wonder if I will miss the moss"
by
Jane Mead
, which was published post-mortem in the New Yorker with the help of my professor Kathleen Finneran and Mary Jo Bang.
But I decided to revisit my aforementioned "Cough It Out" concept, even if using song lyrics as my main text wasn't self reflection in a literal sense. I hadn't drawn anything substantial since Winter 2020 but had been meaning to get back into drawing. I figured Lucy's project would be the perfect place to start. I wanted to make something personal that my friends could see and know that I was thinking of them. Plus, there was a set deadline (January 2022), which meant I had to actually execute my ideas this time.
The concept still resonated with me; I graduated in May 2021 and for many reasons will never make the walk from Sam Fox to the Village again. Though I visited WashU in November 2021 for fun, I will never step foot on campus as an undergrad student ever again.
Discovery
In my sketchbook, I thumbnailed a few pages. I wanted panels to show 1) me walking and 2) the campus around me. The trickiest part was breaking up the song lyrics into panels. I thought about how I could size panels in a way that reflected the sound, pauses, or meaning of the lyrics. During the first few weeks of January, I tested different layouts in Figma.
In terms of color, I wanted to draw completely in grayscale and then use a gradient map to apply color. I believed this would speed up my process and add visual clarity because it would let me focus on the relationships between objects' values rather than their hues. Still, I collected inspiration for possible color palettes early on. This inspiration also involved ambiance, emotion, location, and time of day. It includes pieces by Amelia Allore (@mimiadraws), Mariel Rodriguez (@meruz), Kelsey King, and Suzanne Siegel. In particular, I was drawn to the quiet solitude @meruz manages to portray 
here
and
here
.
I also began collecting any photos I took on my phone of places I'd see during my walk. Several of them were taken anywhere from 1:00 AM to 4:00 AM. Before the COVID-19 pandemic, it was typical of me to pull late nights in studio before walking back to my dorm/apartment on campus, eating dinner if I hadn't already, showering, and going to sleep. Despite my unhealthy habits, I learned to appreciate the walk. My phone's camera roll is littered with pictures of WashU's beautiful campus.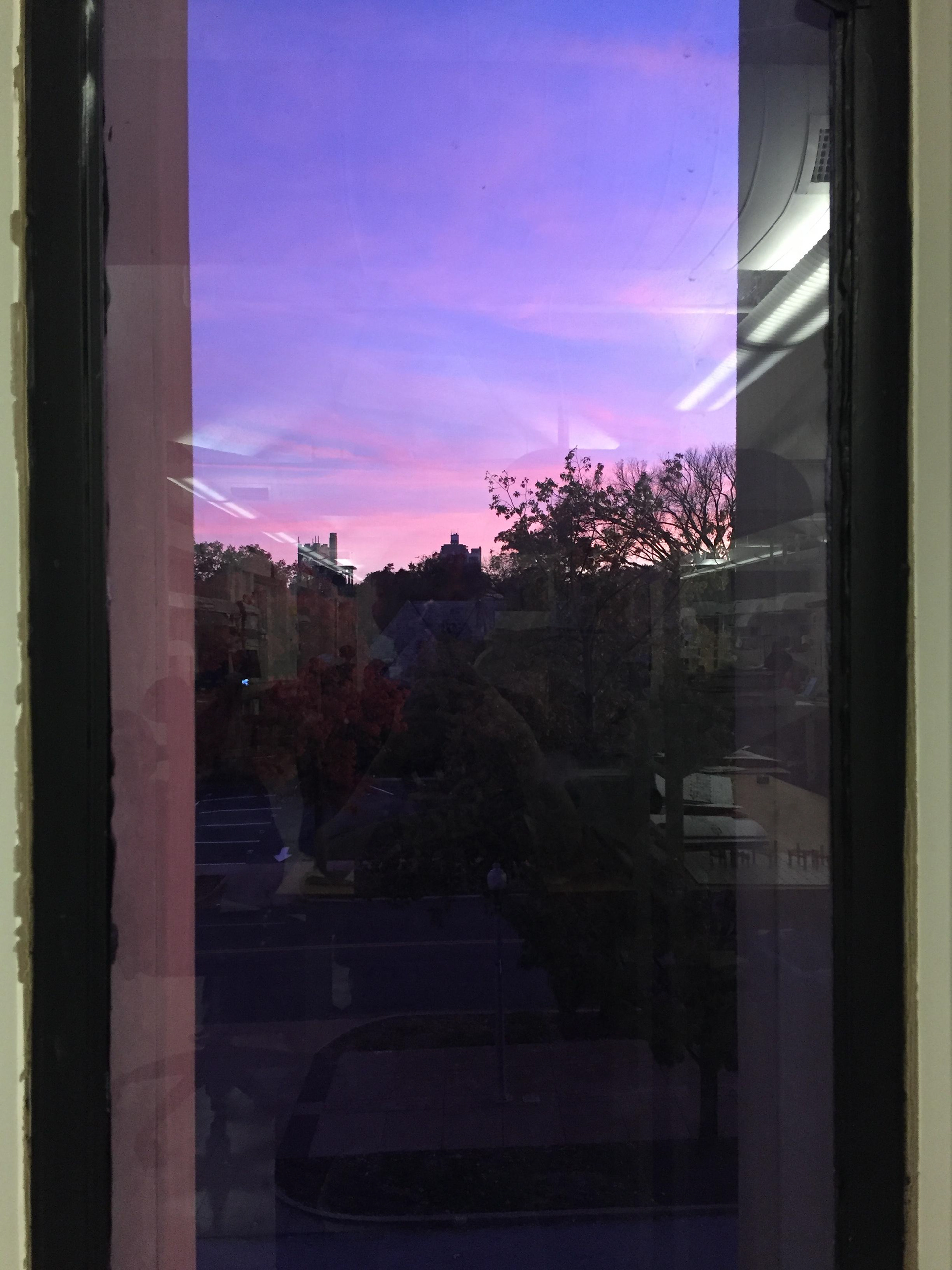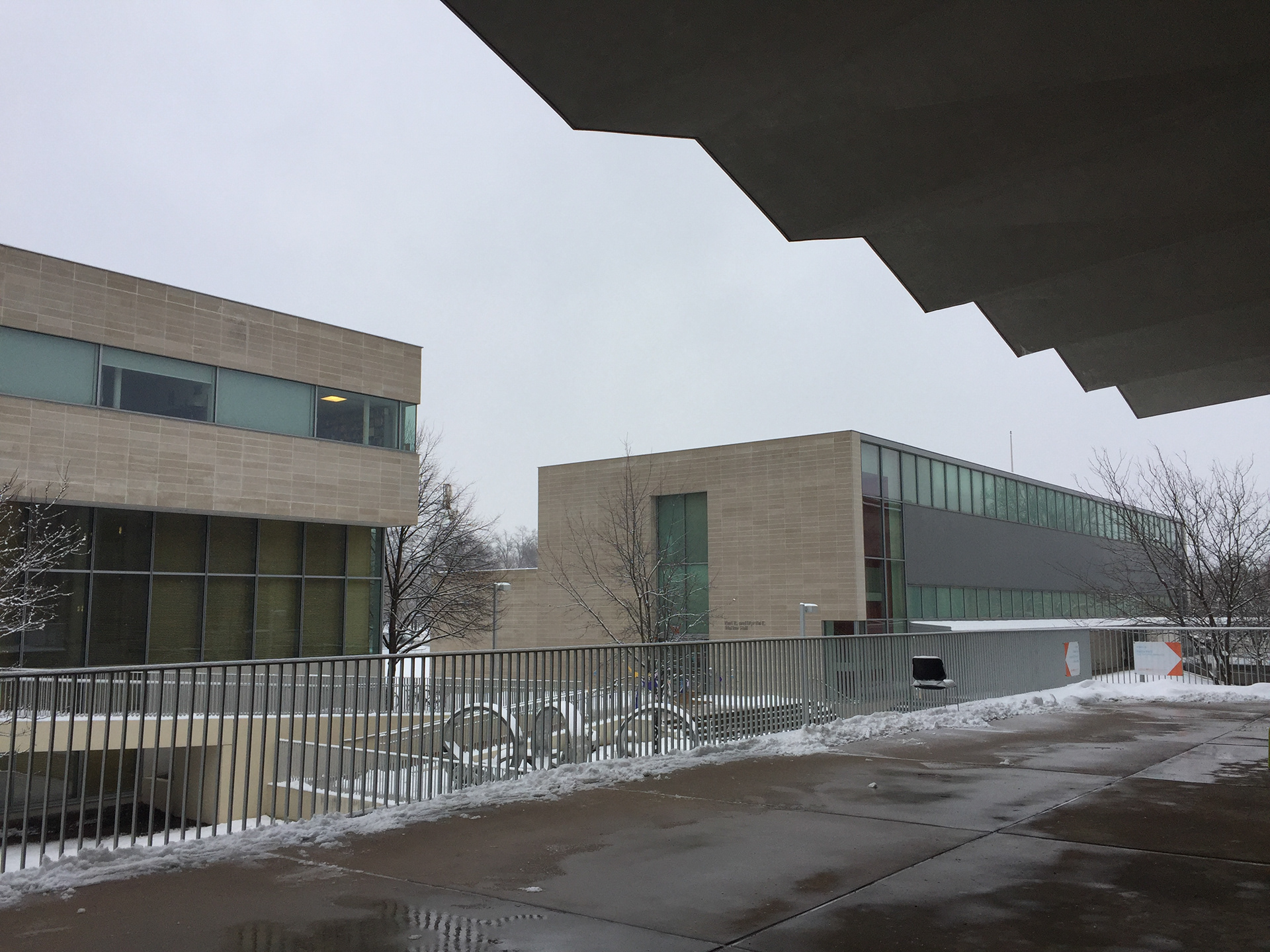 Actually sitting down and drawing after a full day of work was the hardest part of the process.
In my previous four-paged comic
"Sweet Dreams,"
I struggled with drawing characters consistently. I attempted to circumvent that by drafting the first page, then the last page, then the middle page(s) instead of going in order.
I had very little practice with drawing myself fullbody, not to mention walking. I still wonder if I drew myself specifically enough.
After drafting out a few rough sketches, I decided to revisit my paneling because parts of it felt clunky or overcrowded.
I did more research into "established" comic layouts such as those by Jack Kirby and Scott McCloud. I've made (and attempted to make) comics before, and I always find paneling (which also affects pacing) very difficult. I sometimes feel like I approach comics way too academically and try to find the "perfect" layout, but it actually helped me to fall back on standardized paneling. Instead of attempting to cram four panels into one row, I decided to let my comic breathe. I ended up with seven pages and a three-row, three-column (sometimes four-column) system.
Refinement
At first, I attempted drawing campus landmarks from memory because I thought it'd be symbolic and impressive.
When trying to draw a particular area near the Engineering school, I decided to "cheat" and look it up on Google Maps street view. I realized I had compressed the space in my memory. There's an area on the left of the path with green benches, trees, and a bust of a man. Further along, that path changes into stairs which lead up to the entrance of the building where I took CS classes and the building where I took Fiction Writing I. In my drawing, these areas were one and the same. I was, however, ecstatic that I accurately remembered the shape of the lamp.
I realized that drawing campus from memory would be hard to do, look boring and unspecific, and wouldn't give the images enough information for readers (even those familiar with WashU's campus) to know where I was. I ended up referencing a combination of Google Maps street view and Sam Fox virtual tour videos. This sometimes resulted in me drawing things that were way too detailed, but ultimately gave my comic a clearer setting.
After many late nights and taking an extension until February 17 (thanks, Lucy), I finished all seven pages and began gradient mapping and typesetting.

This stage involved a fair amount of trial and error as I attempted to match the same colors to the same elements (my silhouette, building lights, etc). Each page also went through several rounds of small edits, largely addressing type placement, visual clarity, and color. 
I tried out different fonts: Piazolla (serif), Halyard Text (sans serif with inktraps), and Covik Sans (sans serif). Covik Sans ended up winning, as I felt it more successfully integrated with the visual style (somewhat geometric and blocky).
The biggest change I made was due to
a friend
commenting, "if anything i kind of wish there was a panel of you putting in your headphones? would hit home that this was a song tbh but also thats just me." I realized that in no panel was it explicit that I was listening to "Cough It Out." The last panel on page 2 was meant to show I was listening to something in my earphones, but it was too subtle. I made it more explicit by drawing myself in the middle of putting on earphones as well as a closeup panel-within-a-panel of my phone screen playing the song. Doing so added much needed context.
At one point in the home stretch, I was taking my usual semi-daily walk around the neighborhood and admiring how the 5 o'clock sun cast everything in just the right light and shadow. I remembered why I liked drawing in the first place.
Even though I pulled a week of late nights (not all-nighters, not again) for this comic, I'm glad I finished it. It forced me to try things I'd never done before: draw a seven-paged comic, work something entirely in grayscale and only add color at the very end, integrate an entire song with my own drawings, draw five thousand gothic buildings, and draw crappy silhouettes of myself walking from different angles. In the future, I need to develop a consistent character design of myself and figure out a faster way to move from grayscale to color (among other things).
But I want to keep drawing and making comics. I have a lot to learn.
Thank you for reading! Please enjoy these silly drawings I made during this time.
Attribution
Lyrics (the main copy) by Ciaran O'Donnell, Mathew Uychich, Tom Warren, and Brian Sella of The Front Bottoms. Courtesy of
Genius Lyrics
Covik Sans by OH no Type Company