What's in My Bag?

January 2017
Illustration of myself for the "what's in my bag?" challenge.

Drawing has always been a more personal interest of mine, and I've loved being part of the online art community since middle school. I've sold my work at conventions and through Redbubble (over 3,500 sales! whoa!), Storenvy, Society6, and Etsy. I'm currently interested in the storytelling potential of illustration, especially narrative comics! I adore bold colors and shapes, and my favorite things to draw are people and food. I'd love to hone my craft further, and have a pipe dream of making a graphic novel or memoir. My inspirations include Alison Bechdel, Sachin Teng, Sara Kipin, Choo, Jillian Tamaki, Sara Wong, Koyamori, Comilla Paddock (millionfish), Noelle Stevenson, and Joaquín Sorolla.
To start a piece, I almost always begin sketching on paper for a sense of composition and posing, then scan those onto my computer. I use lots of reference photos and draw with the same Wacom Intuos tablet I've had since middle school on my drawing program of choice, Clip Studio Paint (I used Paint Tool SAI when I still had a Windows PC).
Ursa's Nite Life

Fall 2018, Spring 2019
Event posters for my previous job as a Design Manager at
Ursa's Nite Life
, Washington University's late-night and substance-free programming board.
HAIR CUT

September 2020
"HAIR CUT" is a short, intimate zine answering the questions "how are you?" and "where are you?" It follows the narrative of me getting my hair cut by my mom for the first time in 5-ish years due to the pandemic. I used black and white digital illustrations to mimic the materiality of my black hair. Looking back, I wish I'd explored using ink on paper instead. Regardless, I'm glad that I was able to illustrate my own nonfiction writing. You can read the whole thing on issuu
here
.
The pages of the printed book are slightly see-through which creates a layered effect.
I used pencil to sketch a first draft.
The Loved

December 2019
A final class project responding to the prompt "The Loved."

January 2020

February 2022
A personal comic about long walks home and places you can never go back to. It depicts my typical walk during the early Spring 2020 semester from my studio desk to my dorm in the wee hours of the morning while listening to "Cough It Out" by The Front Bottoms. After the COVID-19 pandemic forced WashU students out of on-campus housing, I realized I would never take that same walk again. You can read more about it
here
.
This comic is featured in a zine project by 
Lucy Chen
.
Nursery Rhymes Re-Imagined

September 2019
A set of illustrations using a randomly generated 5-color palette. The process involved a lot of sketching of our default image of a pie (and other objects) to create the most recognizable pie (or other object). I still have a ways to go in mixing illustration with type. A year later, I still know the "Wee Willie Winkie" rhyme by heart.

Ain't I a Woman?

Fall 2019
An illustrated book of transgender actress and activist Laverne Cox's "Ain't I a Woman?" speech, which I was fortunate to see in person as a high school sophomore. View the whole book
here
.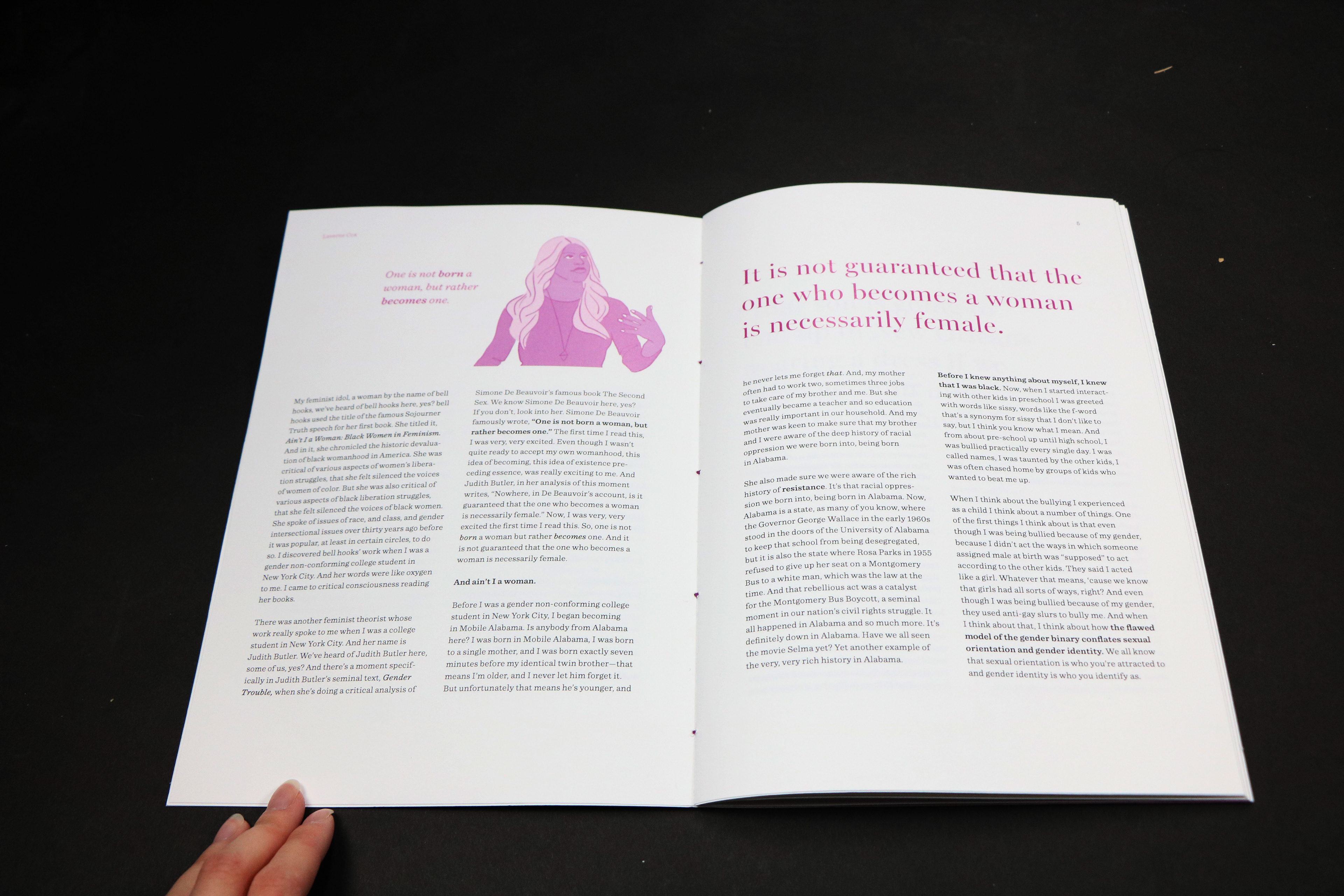 To create these illustrations, I took screenshots of a livestream video courtesy of HVCC Streaming and traced them in order to capture Laverne Cox's likeness.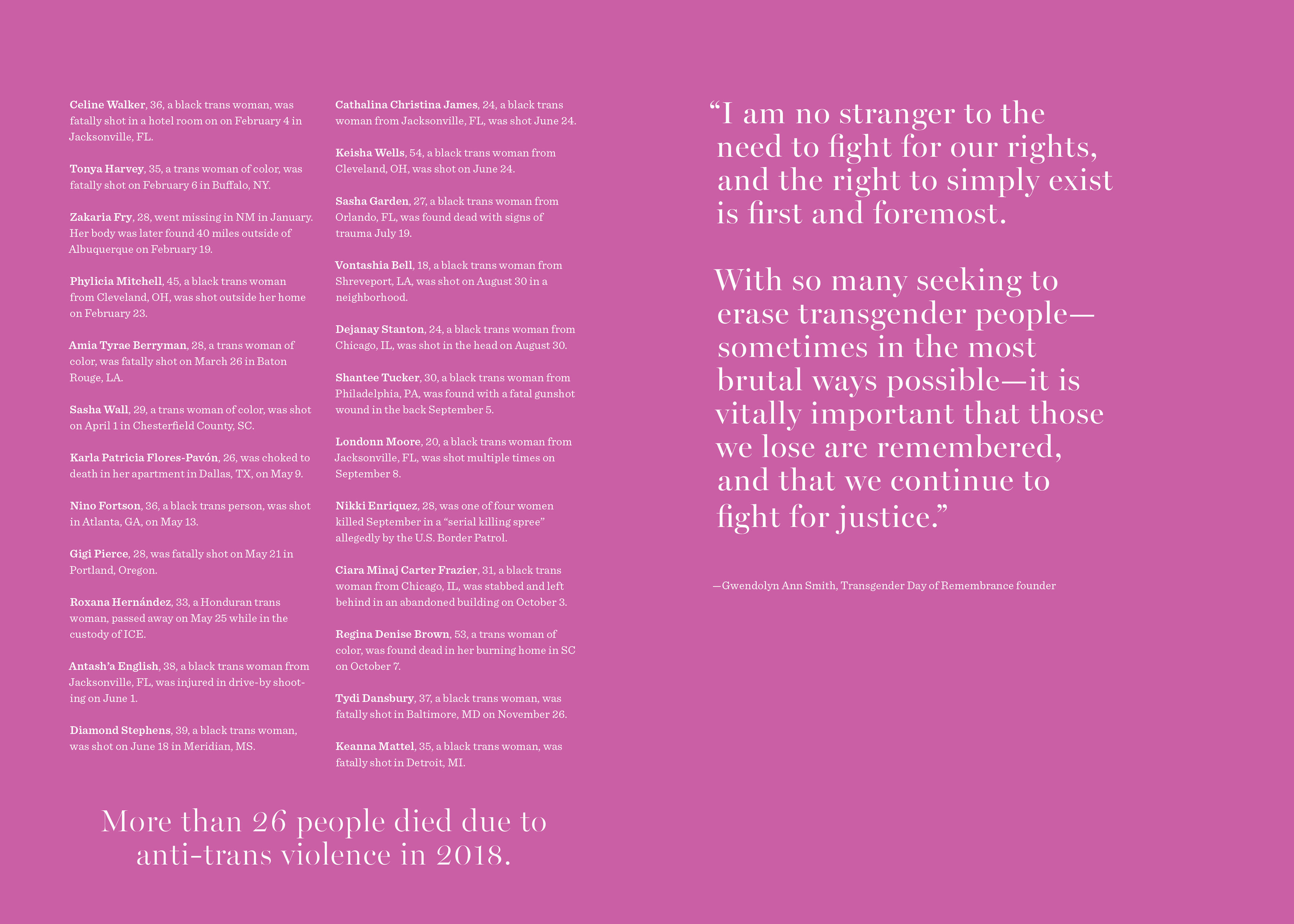 Personal Work

2017 to present
Works for fanzines and personal projects. Characters are not my own. You can view my process
in this speedpaint
.
Attribution
Characters featured in personal work from Haikyuu!!, Boku no Hero Academia, Hunter X Hunter, She-Ra, and Spiderman: Into the Spiderverse.