"Datamatch is a free matchmaking service created for college students by college students to find true love. Back in 1994, a bunch of Harvard students banded together to make this matchmaking system a reality for their campus – but as of recently, Datamatch has now spread to over 30 schools, with plans to expand to more! Take our survey and leave it to us and our top secret Algorithm™ to find you true love (or friendship!). This is primarily meant to be humorous and casual, but there's always a chance of finding a lasting relationship. It has become a tradition across colleges, with over tens of thousands of students signing up every year. If you are curious about participating, you can read more in the FAQ section "The Process." You can also read about us 
in some articles here!
"
In 2019, my friend Michael brought Datamatch to WashU. He and two other friends, Sylvia and Ako, created PR materials and flyered excessively all over campus from February 7 to 14. Even though it was Datamatch's first year at WashU, around 3,000 students (that's almost half of the student body) took the WashU-specific survey to get matched by The Algorithm™ and find love and/or friendship.

Wanting to help my friends and get in on the excitement, I joined the team for 2020 and 2021 to design PR materials. It's been one of my most rewarding experiences at college. In those few weeks in February, campus is hyped about Datamatch. Students of all years and schools, our student newspaper
StudLife
, and even faculty (a Business school professor encouraged his students to reach out to their matches) can't seem to stop talking about Datamatch, whether they see it as fun and games, a social experiment, or a shot at finding love (or hookups).
In 2020, around 3,800 students (pretty much half the student body) participated in Datamatch. Now in 2021, even over Zoom, the excitement about Datamatch is palpable.
For 2020, I designed the WashU Datamatch official cupid hoodies. I listened to the kinds of themes our team was excited about (Datamatch logo over the heart, pixel angel wings on the back), and executed a sleek design. The hoodies got rave reviews from not only the Datamatch WashU team but also other passing students.

In addition to posting on
our Instagram
, we flyer all over campus, in places both conspicuous and inconspicuous: auditorium seats, creepy dorm ceilings, vending machines, the undersides of staircases, on bulletin boards, and on CS classroom doors (targeting the very people mentioned in the flyer: CS majors). It's amazing to see people all over campus so engaged. Someone even crossed out the words on one of our flyers and wrote "R U A desperate fuck?" I love to see it.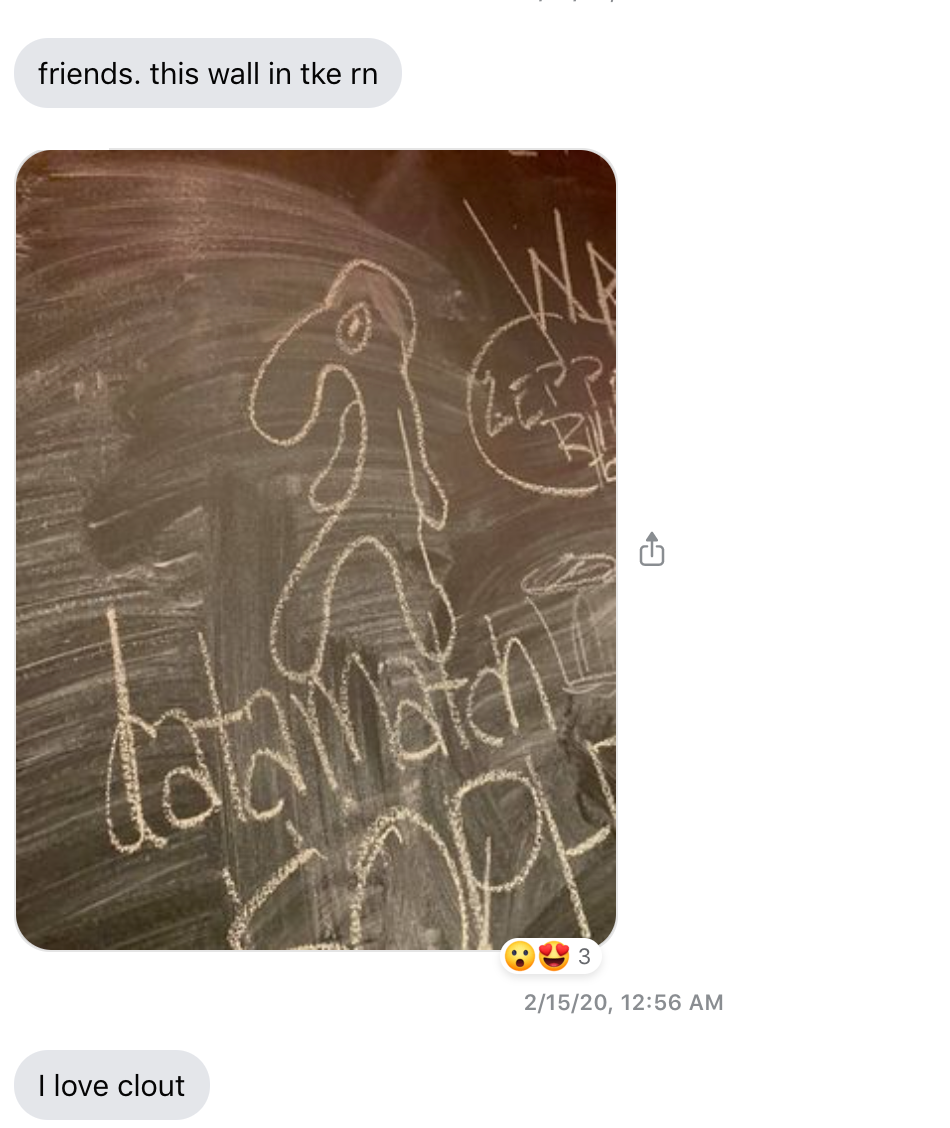 The astounding thing is that even though WashU first joined Datamatch in 2019, its student engagement (the number of students who took the survey) out of more than 30 schools across the US is second only to Harvard's, who founded Datamatch in 1994.
WashU has become quite famous in the Datamatch sphere, and Harvard actually uses us as an example of PR excellence. Other schools get hyped about WashU's PR materials! As one example out of many, in 2021 I created virtual Zoom backgrounds for the Datamatch team to equip in class, and Michael shared it in the national Datamatch Slack. At the national Datamatch launch party at midnight on February 6 (7?), many people from different schools were using the Zoom backgrounds I'd made.
I've loved participating in Datamatch at WashU and nationally. To see students get so excited about this dating survey (and so much more) every February warms my heart.
In terms of PR materials, I adhered to Harvard's Datamatch branding guidelines (color hexcodes, Apercu Pro, logo, etc) to make 8.5x11 flyers, square social media posts, and Zoom backgrounds. My intention was to use fun, engaging pictures and text that reference WashU and meme culture. Something I specifically wanted to highlight was Datamatch's
gender policy
, which invites men, women, and nonbinary people to get matched with men, women, and/or nonbinary people. Some key slogans I used were:
↳ find love.
↳ "all genders and sexualities? on my dating survey?" it's more likely than you think.
↳ prepare yourself. (reference to Ike's catchphrase in Super Smash Bros)
↳ this could be you. (with images of LGBTQ couples like Mr. Ratburn and his husband)
↳ better than ___. (Slack dms, private Zoom chats, LinkedIn messaging)
These are some flyers I made for 2021.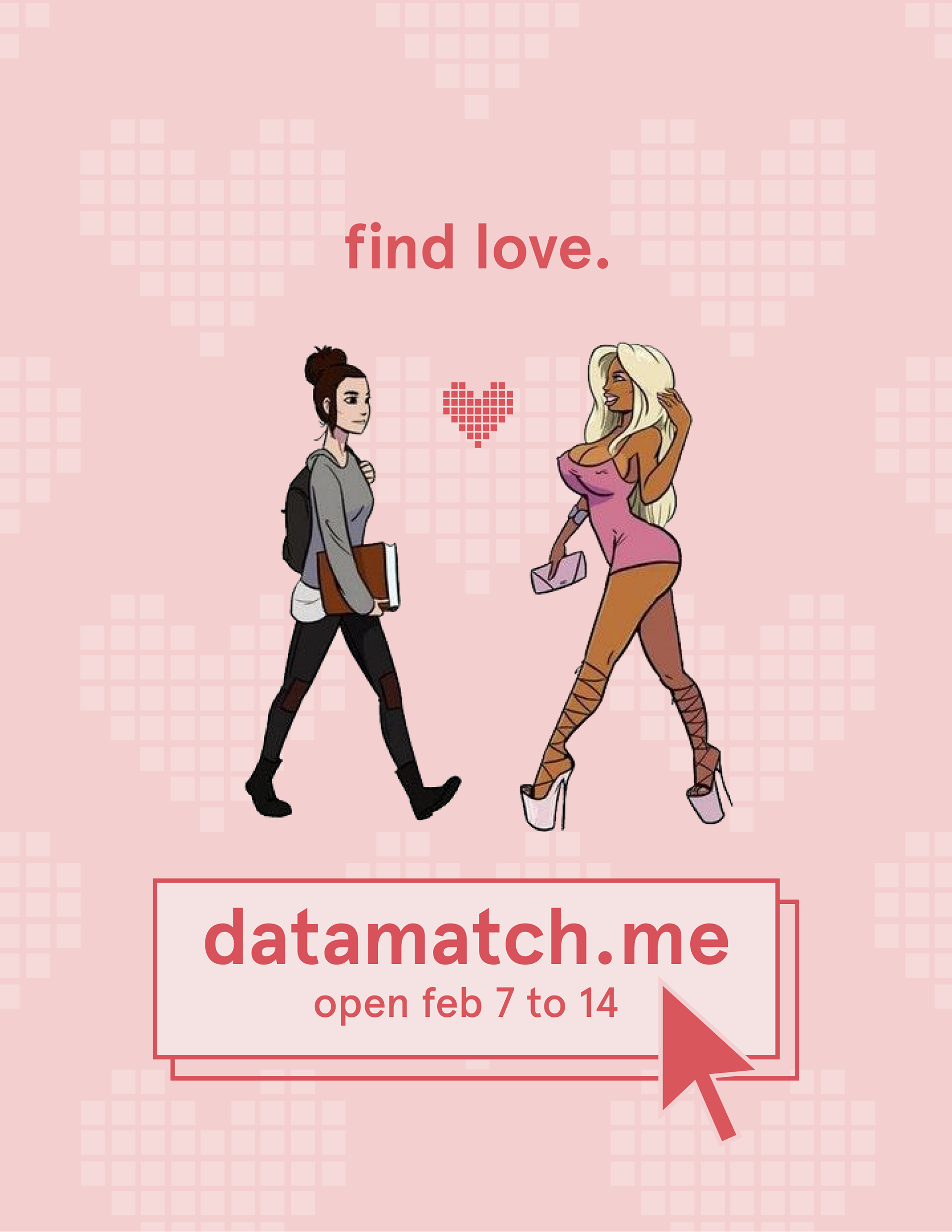 ...And these are the aforementioned Zoom backgrounds I made for 2021.
While I personally treat Datamatch survey results as fun and games, Datamatch has become so much more to me because I've had the opportunity to be part of a lively, enthusiastic, and wonderful team. I can only hope that the love and hype continues after I graduate.

Attribution
WashU Datamatch cupids wrote funny WashU-specific survey questions, flyered, posted on social media, sent emails, and so much more. They are Michael Dizon, Ako Sarfo, Sylvia Yu, Gabriella Cooperman, Sonia Muzemil, Amber Batra, Herman Braggs, Rocky Henderson, Michael Ge, Sofia Aguilar, Brooke Simpson, Deja Henry, Flora He, Orli Hellerstein, Constance Li, Grace Nelson, Jack Treiman, Jade Wong, Jamie Xu, Jessica Ho, Jonah Goldberg, Josh Chen, Lexi Casazza, Nicholas Tu, and me.
WashU Datamatch Design: Michael Dizon, Gabriella Cooperman, HN Hoffman, and me. Please note that not all flyers featured in photos were made by me!
Non-WashU Datamatch team: find them on
LinkedIn
Any images and art featured in PR materials are not my own. They are from internet memes or pop culture.
Tools used: Figma, InDesign, Illustrator